Ryan Reynolds' Company, Aviation Gin, Saves Peloton Girl In Genius New Commercial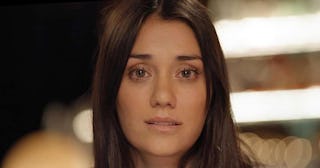 Aviation Gin
Aviation Gin nailed this one, saving Peloton Girl from herself
By now, you've likely heard the backlash Peloton has gotten over their holiday ad featuring a ridiculously fit woman sharing the journey of using her Peloton gifted to her by her husband. Ryan Reynolds company, Aviation Gin, decided to capitalize on the hilariousness by featuring the woman in an ad of his own, one where just being yourself is gift enough.
Reynolds shared the commercial on Twitter with the caption, "Exercise bike not included," and people are very much here for this version of the story. It starts off with a shot of Peloton Girl – played by actress Monica Ruiz, who you might've seen in episodes of Baby Daddy and About a Boy – with the same bewildered expression on her face from the first ad, then gives us a wider shot that shows she's actually out on the town with her two friends, who are staring at her with concern.
The two friends are clearly uncomfortable in a hilarious sort of way before Peloton Girl eventually looks up after taking a sip of gin and says, "This gin is really smooth." Her friends nod in agreement and offer to get her another one, adding, "You're safe here." Peloton Girl responds, saying, "To new beginnings," and manages to take down her first drink in record time. This prompts one friend to sarcastically say, "This is going to be a fun night. Here drink this one, too." Look closely enough, and you'll notice she isn't wearing her wedding ring, leaving viewers to wonder: Did she get divorced from her husband? Does this take place before she gets married?
You just know anything involving the Deadpool actor is going to be pretty amazing, but Aviation Gin is definitely winning at the marketing game this year. In November, Reynolds managed to somehow put three different brands in one ad—a Netflix ad for his new movie, 6 Underground, inside an Aviation Gin ad, inside a Samsung QLED TV ad. The spot works because one, it's hilarious and two, Reynolds can sell anything to anyone.
We also love Reynolds because he constantly trolls wife, Blake Lively, on social media in the sweetest ways possible; and she gives it right back to him. Whether he's wishing her a happy birthday by sharing unflattering pics of her with the rest of the world or admitting she was the one who drove him to the hospital during labor, he just has a way of endearing himself to millions – and this Aviation Gin ad saving poor Peloton Girl is just another example.
The commercial ends with Peloton Girl's other supportive pal telling her, "You look great by the way!" proving we can always count on our friends when our husband's shit the bed in the gift department and bought exercise equipment for Christmas. Here's hoping he's either come to his senses after having to sit through a documentary of her using the bike for a year or she's dumped his ass in favor of gin-fueled nights with the ladies for the foreseeable future.
This article was originally published on