Aziz Ansari Posts Tribute To His Parents That Will Reduce You To Tears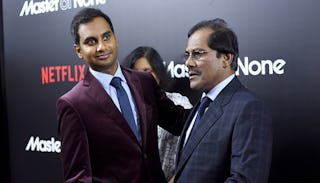 NEW YORK, NY - NOVEMBER 05: Aziz Ansari (L) and Shoukath Ansari attend the "Master Of None" New York premiere at AMC Loews 19th Street East 6 Theater on November 5, 2015 in New York City. (Photo by Noam Galai/Getty Images)
Aziz Ansari, the actor made famous by his role as Tom Haverford on the NBC show Parks and Recreation, penned a tribute to his parents on Facebook yesterday that's driving older children everywhere to tears. It's such a sweet reminder to appreciate your parents while you have them.
Ansari's real-life parents are appearing on his new Netflix show, Master of None. The comedian took to Instagram yesterday to express his gratitude for everything they do for him.
Ansari's father is a doctor, who used most of his vacation time for the year to appear in his son's show. They appeared together on The Late Show With Stephen Colbert this week, and after the show his father said to him, "This is all fun and I liked acting in the show, but I really just did it so I could spend more time with you." Ansari confessed, "I almost instantly collapsed into tears at the thought of how much this person cares about me and took care of me and gave me everything to give me the amazing life I have. I felt like a total piece of garbage for all the times I haven't visited my parents and told them I wanted to stay in New York cause I'd get bored in SC…Not to beat a dead horse here and sorry if this is cheesy or too sentimental but if your parents are good to you too, just go do something nice for them. I bet they care and love you more than you realize."
We can all relate to not fully appreciating our parents, can't we? One of the most important lessons we all eventually end up learning is that time is precious and we have to remind ourselves to truly appreciate the people who love us. It's a gift to come to this realization before it's too late.
Ansari admits that he and his parents have not always had a close relationship: "we are weirdly closed off emotionally sometimes. But we are getting better. And if you have something like that with your family – I urge you to work at it and get better because these are special people in your life and I get terrified when my dad tells me about friends of his, people close to his age, that are having serious health issues, etc." It's something we don't like to think about, but our parents won't be around forever.
Family relationships can be riddled with baggage and strain. It's refreshing to hear someone talk about that in such an open way. My own father passed seven years ago. I was working as a bartender then, and one night my phone rang during my shift. I looked down to see the name "Dad" flash across my screen. I remember thinking, "Ugh, my dad." I just wasn't in the mood to talk to him. I had no idea the next day he would have a catastrophic stroke that would render him unable to ever utter a clear word again, and would pass away a few months later. That was literally my last opportunity to hear my father's voice. I've never quite forgiven myself for that. I'm not sure I ever will.
"Enjoy and love these people while you can," Ansari says. It's easier said than done sometimes, but we'd all do well to remember our parents won't be around forever.
(feature image via Getty Images/ Noam Galai)
This article was originally published on