When I Learned My Baby Would Be Born With A Birth Defect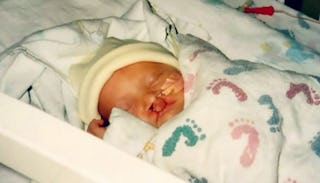 Kathy Glow
I'll never forget the day I found out I was pregnant for the second time. My first pregnancy had ended quickly in a painful miscarriage, followed by four months of depression, and five months of fertility treatments. I had waddled into the doctor's office that day, completely bloated and absolutely miserable. It felt like my ovaries had grown to the size of bowling balls and were knocking together every time I took a step.
"Have you taken a pregnancy test?" The nurse at the front desk asked me. "You have to be pregnant!"
My urine had barely wetted the test stick before two lines appeared. With tears in my eyes, I handed the stick to the nurse who loudly announced, "I knew you were pregnant!" The whole waiting room clapped.
And I was relieved that my nightmare was over.
We found out at five weeks that I was carrying twins; at 12 weeks, we learned they would both be boys; and at 16 weeks, we captured clear pictures of their tiny profiles.
I hung the pictures above my desk at work and stared at them constantly. I couldn't shake the nagging feeling, though, that Baby B's profile didn't look quite right. Baby A's profile was perfect, but Baby B's face looked like Darth Vader's helmet. It's probably just a weird angle, I kept telling myself.
I felt since we already knew the gender of the babies, there wouldn't be any big surprises at the 21-week ultrasound. The doctor talked about how well Baby A was growing and pointed out his perfectly developing features. Baby B was growing well too, though Baby A was obscuring most of the view to see him clearly. The doctor did know with certainty that he had a complete bilateral cleft lip and palate.
The smile faded from my face and blood rushed to my ears as the doctor and my husband continued talk in medical terms about our baby's birth defect. I didn't understand what was happening. I just knew something was wrong, and that terrified me. My instincts about Baby B had been right.
My husband, who ironically was studying to be an oral surgeon, attempted to explain to me just exactly what a cleft lip and palate is. Sometime during the sixth to tenth weeks, the roof—or palate—of our baby's mouth and the two sides of his upper lip failed to fuse together. According to the CDC, each year almost 4,000 babies are born with some type of cleft lip and/or palate, making it one of the most common types of birth defects in the United States
The bad news didn't end there. I was already having contractions, and my doctor ordered me to go on bed rest. My perfect, long-awaited pregnancy was becoming a nightmare.
I set up camp on my couch and cried for three days. My husband tried to explain to me what the baby would look like, but we never did get a clear ultrasound picture of him because of Baby A. Because babies born with clefts can also have heart issues, the doctor sent me to a pediatric cardiologist who did an ultrasound of the baby's heart. Although it showed no defects, he would be on call during the birth just in case.
The day of my babies' birth arrived five and a half weeks early. After Baby A was born and whisked off to the NICU, my cervix closed sealing Baby B tightly in his uterine cocoon. I lay shivering in an operating room and worrying about him for three hours before he made his appearance.
And once he did, he was darling: a beautiful round face, striking blue eyes, and a little knob under his nose where his lip should have fused together.
The weeks that followed were difficult and emotional. He couldn't nurse because he wasn't able to make the seal needed with his lips. When I took the babies out in the stroller, some people would do obvious double-takes and ask, "What's wrong with your baby's nose?"
Today, at age 12, he has had four surgeries related to his clefts and will have many more as his face grows and changes. He has had speech therapy and will need implants to replace missing teeth. Through genetic testing, we discovered that his cleft was due to a deletion on one of his genes, something we could not have predicted.
While I once saw having a baby with a birth defect as a nightmare, I now see it as a blessing. He is a strong, smart, resilient young man, and he makes me a better and more empathetic mother.
This article was originally published on