All Of These Cute Kids' Clothes Are On Sale In Amazon's Overstock Section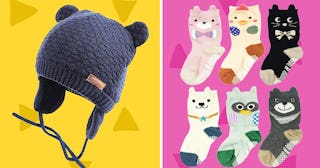 Amazon
These adorable clothes are all discounted in Amazon's overstock section
Kids' clothes are always very, very cute. But deeply discounted kids' clothes? That's the sweet spot, right there. Head over to Amazon's overstock section where there's a bunch of bright, soft, cozy clothes for your little one. Bring on all of the adorableness.
Why, yes, your child does indeed need these cute animal socks. They come in a six pack and feature all of our favorite furry friends.
Speaking of animals, this little fox hat is perfect for a newborn – teeny tiny ears and all.
It's finally, finally starting to get warm out and this rainbow, ultra colorful dress is the perfect springtime ensemble. How can you not feel cheerful looking at this?
These booties are super cozy and have non-skid bottoms to prevent falling.
You really can't say no to tiny candy cane striped shorts and a whale onesie.
When nighttime rolls around, grab these cozy pajamas for your kid. They come in a variety of bright colors and feature a little bear on the pocket. Wins all around.
Keep your child's toes nice and warm with these ultra fuzzy, ultra comfy socks. Bonus points: one of them is shaped like a bumblebee.
RELATED: Cozy As Hell Fuzzy Socks That You'll Want To Be Wearing, Like…Now
It's springtime so that means all nautical fashion is officially acceptable no matter what anyone says.
Snag these cute cable knit tights for chillier days. They're comfy, have a nice stretch, and come in three neutral colors.
I mean, can you ever say no to a bear hat? I think not.
Your child's closet just got even more adorable. Bring on all of the teeny tiny clothes.
We may earn fees from purchases made via links on this page and affiliated sites. All opinions are our own.
This article was originally published on