This Baby Food Service Seriously Changed My Life
by Team Scary Mommy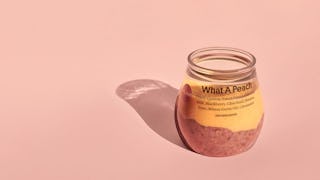 Yumi
I really wanted to cook all my baby's food.
I swear I did. I fantasized about hand selecting fresh organic produce from the farmer's market, designing gourmet recipes (topped with a single sprig of parsley), and taking Pinterest-perfect photos of my creations. But in practice, it was a hot mess — plenty of screaming and tears — and my child wasn't so happy about it either. I found myself constantly worrying about getting her/him the right nutrition and then spending hours cooking, cleaning, followed by more worrying.
Then, a close girlfriend told me about a new crop of baby food services that make fresh, organic baby food that gets delivered straight to your door.
Excuse me?
I was psyched but also a bit skeptical. There was a lot to choose from, and it was hard to know which one to trust. Some claimed to be healthy, but upon closer inspection were just dressed up applesauce. However, one brand I came across called Yumi really stood out. They freshly prepare your baby's meals every week — unlike the grocery store brands which can be months or even years old. Two-year-old chicken stew? No thank you.
I gave it a try, and here's how things went down.
Right off the bat, I love that the meals are carefully curated by nutritionists and doctors (no meal planning, yay!), they use organic ingredients from farms, and the line offers more than fruit puree. There's way too much sweet stuff in baby food today — Yumi actually limits the amount of fruit in their meals and relies on a variety of premium veggies like Japanese sweet potatoes and kale (they also come layered so you know exactly how much green stuff you're getting).
I have to admit, it's FREAKING delicious. I snuck a few bites myself and may or may not have "borrowed" some for breakfast. Hey, mom needs her superfoods too! The packaging is super cute (extra points for being compostable and curbside recyclable), and I get a tailored "milestone" card that points out how specific meals in my box are impacting my kid based on their age.
Before Yumi, I never really thought about how every bite impacts my child's growing brain, body, and even taste buds. For instance, did you know that at 6 months, a baby's natural iron stores are depleted so you should focus on iron-rich foods to support their fast-growing brain?
Yeah, me neither. It's kind of brilliant that Yumi does all this research for you, which reduces your general need to Google absolutely everything.
The final verdict:
This stuff will save you hours. But most importantly, it omits the guilt and stress from the feeding process. Each day I know my baby is getting nutrition I can really feel good about. In parenting, you sometimes forget that feeling like a good parent doesn't always require blood, sweat, and literal tears. Sometimes, the easier choice can be the best choice.
Yumi makes it easier to feed your baby fresh, nutrient-dense food. Recognizing the importance of nutrition in the first 1,000 days of life, Yumi's intelligently designed blends provide balanced meals to support babies' neurological and physical development at every age and stage. To ensure maximum nutrition and flavor in every spoonful, Yumi has an in-house team of experts that includes holistic nutritionists, plant-based chefs, doulas, doctors and more. For more, follow @Yumi or visit HelloYumi.com
This post is sponsored by Yumi.
This article was originally published on