Baby Names That Mean "Love"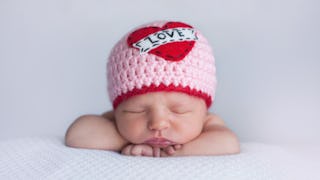 katrinaelena/Getty Images
You never know how deeply you can love until you look at your baby. And you can convey that every day by choosing one of these heartfelt names that mean love, beloved, dear, or any of the other adjectives for "my heart might burst at any moment."
Naming a baby can be scary. We can help! Check out our baby name database here.
Aiko
Amanda
Amare
Amias
Amora
Amoret
Amy
Aziz
Cara
Carys
Corwin
Darrell
David
Desi
Esme
Jaime
Jedidiah
Kama
Lennon-unisex
Lev
Love
Mila
Nayeli
Neha
Noa
Ren
Yaretzi
This article was originally published on