Girl Names That'll Ring Your "Bel"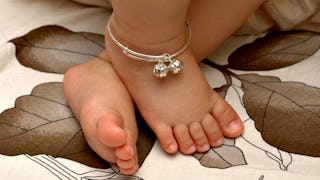 eprom_is/Getty Images
We all want our daughters to grow up to be the "belle of the ball" (in body and mind, of course). There are many names to choose from, some common and some rare, that feature the popular "-bel" and its variations. Check out these beauties.
Naming a baby can be scary. We can help! Check out our baby name database here.
Adabelle
Amabel
Annabella
Arabella
Belcalis
Belia
Bella
Belladonna
Bellamy
Bellatrix
Campbell
Christabel
Clarabelle
Elizabella
Isabel
Isabella
Jezebel
Mabel
Marbella
Maribel
Rosabella
Sybella
This article was originally published on