Patriotic Baby Names Inspired By Memorial Day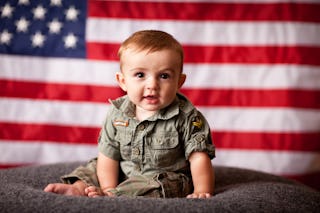 Ideabug/Getty Images
Patriotic baby names are perfect for a baby born around Memorial Day. Always falling on the last Monday in May, it's a holiday of remembrance. We have picnics, parades, and more solemn ceremonies to honor the brave men and women of the U.S. military who have lost their lives in service to our country.
Whether you're expecting a baby around this holiday, want to pay homage to a beloved service member, or are just a proud American, these patriotic names are a great tribute to the valor and loyalty our military shows every day.
Naming a baby can be scary. We can help! Check out our baby name database here.
America
Banner
Cannon
Glory
Gunner
Honor
Justice
Legacy
Liberty
Major
Maverick
Merit
Monday
Navy
Noble
Poppy
Sailor
Shiloh
Star
Valor
Victor
This article was originally published on