Sizzling Names For Summer Babies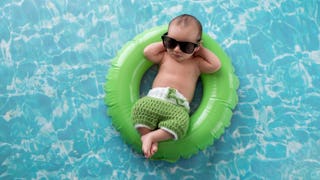 katrinaelena/Getty Images
Names for summer babies encompass everything we adore about the season. Summer baby names are hot, whether you're expecting a summer baby or just dig the chill vibe of the warmest months of the year. Ice cream and pool time, beach trips and baseball games? Yes please! Everybody loves the laid-back feeling that this season brings. And more babies are born in summer than any other season.
If you're searching for the perfect name for your summertime sweetie, this inspirational list of summer baby names will add some sizzle to your shortlist.
Naming a baby can be scary. We can help! Check out our baby name database here.
August
Blaze
Blue
Breeze
Coco
Coral
Daisy
Isla
Jetty
July
June
Lake
Leo
Liberty
Ocean
Park
Reef
Sailor
Sandy
Shell
Shore
Sky
Soleil
Solstice
Summer
Sunny
Tripp
This article was originally published on