Happy Baby Names For Your Bundle Of Little-Girl Joy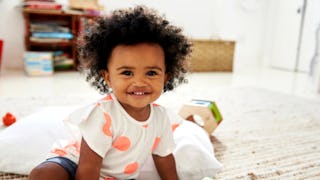 monkeybusinessimages/Getty
Happy baby names will bestow their cheerful properties onto your little girl's personality … or at least, we hope. After all, you can't be known as a raging grump when your name is Merry or Joy, right? Surely not.
Your bouncing baby girl will be the sunshine of your life. Why not give her a name that perfectly conveys all the warmth, happiness, and cheer she brings every day?
Naming a baby can be scary. We can help! Check out our baby name database here.
Allegra
Bliss
Blythe
Daisy
Dream
Felicity
Harmony
Holiday
Hope
Joy
Jubilee
Love
Merry
Revel
Serenity
Sunny
This article was originally published on