Mom Tells Babysitter To 'Be Grateful' For $8 An Hour To Watch Three Toddlers
by Leah Groth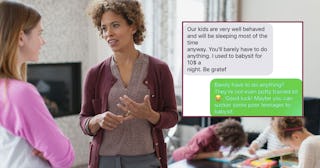 Hero Images/iStock/Getty
A viral Reddit thread between a potential sitter and mother-of-three pretty much sums up every excuse babysitters get for paltry pay
How much should you pay a babysitter? There are so many factors that can determine the going rate of childcare, including where you live, how many children you have, the experience level of your sitter, and the demands of your specific job. That being said, according to a recent survey conducted by Care.com, the average nanny earned about $15 per hour for one child, while according to another conducted by Urbansitter, babysitter pay for two children can average over $21 in some cities. However, according to one mother of three, a babysitter should consider themselves lucky to make eight bucks an hour to take care of her three diaper-wearing rugrats.
A text exchange between a potential sitter and a mom of three has gone viral on Reddit — and it is totally reminiscent of that one mom who tried to pay her sitter with "ice cream and fun."
Here's how it went down: the desperate mother found an ad that the babysitter had posted and reached out to her, asking if she was available for a last minute sitting job. The babysitter responded, asking the ages of the children, what hours she would be needing help, and any other applicable details.
"We have twin 3.5 year olds and 2 year old," the mom responded. That information is enough to assume that the sitter wouldn't be signing up for an effortless night. Toddlers — especially in threes — are a lot! But then she added that none of them are potty trained, but let the sitter know that she would be "more than welcome to work on it."
The sitter agreed to "work with it." The mother proceeded to ask the sitter about their rates.
"For three kids I can 15/hour," the sitter wrote back. "Do you know how long I'll be sitting?"
After telling the sitter that she needed her until midnight, "possibly later," the sitter stated that her rate for three toddlers is $15 an hour.
"In no way will we be paying 15," the mom stated. "We've had several sitters in the past and never paid more than 8."
The sitter politely declined the job. "I'm sorry I can't do that!" she wrote back. "15 an hour minimum. I don't want to waste anymore of your time so that's it 15 or nothing."
The mother was pretty offended. After all, her kids "are very well behaved" and would be sleeping most of the time anyway. "You'll barely have to do anything," the mom continued, adding that back in her babysitting days, she only earned ten bucks a night. "Be gratef[ul]" the mom concluded.
The post was shared in the subreddit "Choosing Beggars" which is "for posting screenshots, pictures, or stories of people who are being way too picky." The post appears to have been shared by the babysitter herself, who titled it "anyone who has worked in childcare knows she hit babysitter bingo," and sounded off about it in the comments section.
The overall response was overwhelmingly in support of the sitter. In fact, about zero people sided with the mom.
In case you aren't sure what the going rate is for babysitter pay these days, there are a few things you can do. One, ask other parents how much they pay their sitters. Two, join babysitters groups on Facebook and ask them. Or three, do a little research online.