'A Babysitter's Guide to Monster Hunting' Will Be Your Kids' New Fave Halloween Movie
by Julie Scagell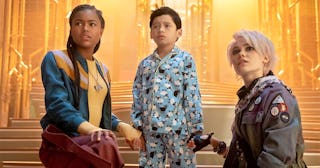 Justina Mintz/NETFLIX
Mark your calendars for this must-see Halloween flick
Halloween is going to look a little different this year and Netflix is obviously looking for more ways to take care of us in our time of need. As we enter the month of bingeing all things Halloween, a new movie based on a popular book is one the whole family can enjoy.
Based on the popular book series by Joe Ballarini from Harper Collins imprint Katherine Tegen Books, "A Babysitters Guide to Monster Hunting," the movie version is hitting Netflix on October 15th. If you've not read the book, it's about high school freshman Kelly Ferguson (Tamara Smart) who reluctantly agrees to babysit Jacob Zellman (Ian Ho) on Halloween night. Once there, she becomes entangled in an international secret society of babysitters who protect kids with special powers from monsters.
There's everything to love about this movie, including an all-important tech genius (Troy Leigh-Anne Johnson), a creature expert (Lynn Masako Cheng), and no Halloween movie would be complete without a potions master (Ty Consiglio). The team assembles to defeat a Boogeyman known as "The Grand Guignol" (Tom Felton), a witch named "Peggy Drood" (Indya Moore), and their team of ghoulish monsters who want to kidnap Zellman.
Of course, everything has to be solved and buttoned up before his parents get home for the night and it's all up to the babysitter to save the day.
Netflix has come in clutch during this pandemic. While we've been holed up with our family the streaming giant has given us gifts like Tiger King, Unsolved Mysteries, and a ton of kid-friendly content like the recent release of the family movie The Sleepover.
Plus, with the kids likely not having their typical Halloween routine of trick-or-treating to as many neighbors as they can and bingeing on candy until the wee hours of the night, parents need something to cheer our kids (and ourselves) up. Plus, it's safe for everyone and gives us even more family time together which we've all been craving (lol forever).
Television director Rachel Talalay (Dr. Who, Riverdale, Sherlock) is taking on the challenge of adapting the family feature (Ballarini adapted his own story of the series), but it's bound to be a hit. Plus, anytime we can get our hands on a kid's movie that's just scary enough to get a future generation into the genre and still not keep them up with nightmares all night is a win.
We only have to wait a few more days, so mark your calendars and get ready for a fun, semi-scary adventure.
This article was originally published on