'Bachelor's' Arie & Lauren Post First Photos Of Their Newborn Twins
by Christina Marfice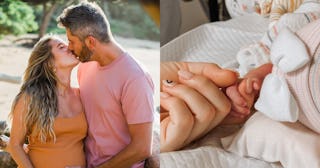 Arie and Lauren finally welcomed their twin babies — and shared some very sweet photos
Fans of The Bachelor will almost definitely remember Arie Luyendyk Jr.'s drama-filled season — and especially the way it ended. Arie originally chose Becca and proposed to her, and then broke up with her later — on camera — in order to pursue runner-up Lauren. All's well that ends well, because Arie and Lauren are now happily married, living a dream life in Hawaii, and just welcomed boy-girl twins. Oh, and they've already graced us with pics of the new babies.
Soon after they were born, Arie gave a public birth announcement on Instagram that included a photo of Lauren, still in her hospital hair cap, holding the babies.
"Never been prouder of my wife than in this moment," he wrote. "She is the strongest woman I know and I'm lucky to be on this incredible journey with her. We are proud parents of a healthy boy and girl!"
And last night, the couple's 2-year-old daughter, Alessi, finally got to meet her new brother and sister. Naturally, Arie captured the beyond sweet moment for his audience, because we simply cannot get enough of this cuteness.
"Already loves her brother so much," he wrote alongside a heart emoji. "Emotional few days but Alessi meeting her little brother today was cuter than words could describe. We'll post more soon just resting."
The couple haven't announced names for their two new little ones yet, but they've been peppering their social media with clues that the names start with "L" and "S." Fans have been speculating, but Arie and Lauren haven't given anyone any clues, so we'll just have to wait for them to make that announcement.
Those who have been following along with the couple's pregnancy journey also know that this has been a very busy time for the Luyendyks. In addition to cooking up a set of twins, Lauren has continued her modeling work.
That was after Arie was diagnosed with COVID and had to quarantine away from his family for a few weeks. The couple also bought a home and made a big move from Arizona to Hawaii just a few months ago.
Hopefully, now that the babies are here, this sweet couple will finally slow down a little! But knowing them, they probably have a lot more exciting things up their sleeves. Here's hoping they keep posting plenty of cute baby pics while they're at it.