Hell Yes: Former 'Bachelor' Star Hit The Red Carpet With Hairy Legs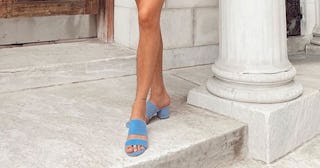 Instagram
Bekah Martinez, a former contestant on The Bachelor, decided to ditch the razor before walking the red carpet
While most women who walk the red carpet make sure they are perfectly quaffed and clean-shaven beforehand, a former contestant from The Bachelor did things a little differently. Bekah Martinez, who was a fan-favorite on Arie's season in 2018, recently attended a red carpet event and she brought along a guest– her leg hair!
She shared her story in a cute post on Instagram to let the world know, she was feeling pretty proud of her bold move.
"This may sound really dumb, but it was a big deal for me," she wrote in her post. "I've finally gotten to the point where I feel (almost) totally comfortable like this."
Martinez said she stopped shaving about a year ago after giving birth to her first baby, a daughter named Ruth. But she also talked about why the move was so important. It was because she used to have a lot of hate for the hair on her body but she decided, she didn't want to feel that way about herself any longer.
"I grew up HATING the hair on my body," she said. "I was teased for it, snuck my mom's razor at age 9, and would pray that God would remove my hair from the neck down. I would panic every time I got invited to go swimming and hadn't shaved."
When Bekah became pregnant, though, she decided to own her leg hair instead. She found she was finally able to overcome what she felt had been a life-long insecurity, too. Rocking it out on the red carpet was just another way to completely embrace herself.
Just look at her sweet baby.
https://www.instagram.com/p/BzbOPQFJttw/
It's a beautiful message about the fact that you don't have to change yourself to be beautiful. You can simply be, as you are, and as long as you feel good in your skin, it doesn't really matter what anyone else thinks. It's how you feel inside that matters.
It's always amazing how motherhood impacts us in mysterious ways, like helping us to embrace all our parts. At least, it seems that was true for Bekah.
Motherhood looks good on her, body hair and all.
https://www.instagram.com/p/B1FKFlZg7sw/
During Bekah's time on The Bachelor, she totally seemed like one of the most confident ladies on the show. But we all have our own insecurities and it's lovely that she's shining a light on what hers are (or were!) and that she's owning all her parts, too.
She also was clear about her messaging. It's not that she is "anti-shaving," she said. It's more about believing she is beautiful no matter what. "It's about telling young girls you don't have to listen when society tells you your natural features are ugly or gross," she wrote.
TRUTH TO THAT.
For Bekah, going natural felt like an important rite of passage that she simply wanted to embrace. More power to her and her hairy legs! Hopefully, she'll walk a few more red carpets and let it all hang out. Because why the hell not? She's a beautiful woman either way. However she feels most confident in her own skin is all that matters.
It's about more than body hair, though. Bekah really is helping pave the way for women and girls to embrace themselves however they are by sharing her own story from insecurities to self-love. Whether we shave our legs or not, it's a message we can all carry to help dim our own insecurities and just love our bodies a tiny bit more.
Thanks, Bekah! You do you, girl.
This article was originally published on