'Bachelor' Contestant Opens Up About Being A Sexual Assault Survivor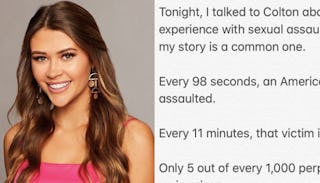 Image via Instagram/Caelynn Miller-Keyes
Bachelor contestant Caelynn Miller-Keyes told a heartbreaking story about being raped in college
Bachelor Nation has come together to support Caelynn Miller-Keyes, a contestant who revealed that she was raped and assaulted in college. Her story is gut-wrenching, and people across the internet are applauding her for bravely sharing such an incredibly painful, personal story.
Last night, Miller-Keyes was picked for a one-on-one date with Colton Underwood, this season's bachelor. The two went out to dinner and Miller-Keyes opened up to Underwood about a horrific night in her life. She recounted going to a fraternity party her sophomore year of college, where she was given a glass of wine that was drugged.
"I woke up the next morning completely naked in my bed and had no memory of the night before," she said. "I had a small vision of a guy in my bed, and I just had this pit in my stomach that something really bad happened last night. My girlfriend called and said three of us were all sexually assaulted."
Miller-Keyes' friend went on to explain that a group of men violated her while she was drugged.
"The girlfriend who didn't drink the wine called me and told me that not only did a guy come home and have sex with me, [but] another guy . . . I was passed out on the couch from the drugs, and he said, 'Watch what I'm about to do' with all his fraternity brothers around me, and he lifted up my dress. They watched and laughed and took photos," Miller-Keyes recounted. "It was horrible. It was absolutely horrible."
The story just kept getting more and more heartbreaking. Miller-Keyes went to the hospital for a rape kit but was turned away and told she needed to file a police report first. By the time she had returned to the hospital, she said that reports came out inconclusive. "The men got away with it, except for one," she said. "One did get expelled, and the rest got away with it."
There was an outpouring of support for Miller-Keyes on Twitter, with so, so many members of Bachelor Nation sending their love and thanking her for her bravery.
Miller-Keyes took to Twitter to respond to the massive wave of kind words being sent her way. "Thank you to everyone for your love and support during this time," she wrote. "And to all of the fellow survivors out there, I want you to know your voice matters and you deserve to be heard."
Miller-Keyes told People that she decided to speak out because the process of reporting a rape and going to the hospital can be so difficult. "The reporting process is a lot more difficult than people realize. I had no idea what to do. I was completely stranded; I was completely alone. I didn't even think it was possible to be turned away from a hospital. Thankfully, I had a good support system and people went to a second hospital with me and I was able to get a rape kit and speak to authorities and go through that process. But it's a lot more difficult than it seems," she shared.
"These situations happen when you're safe," she told the mag. "They don't necessarily happen when you're walking down a dark alley. It's when you're comfortable and when you let your guard down." She says, "My focus is on survivors. I want to help other people who are hiding out and feel like their voices are restricted. I really am so much stronger now, in so many ways."
She also posted a note on Instagram, sharing some alarming, horrific statistics, including the fact that every 98 seconds an American is sexually assaulted. Only 5 out of 1,000 perpetrators will go to jail.
"For anyone out there who is suffering from sexual abuse or is still suffering from sexual abuse please, please know: you deserve to be happy, you deserve to be safe, you are not alone, you are believed, there is hope, there is help," she wrote.
If you or anyone you know needs help or support, RAINN has a 24/7 helpline. Reach them at 800.656.HOPE (4673).