'Bachelor' Alum Jade Tolbert Just Had Her Second Baby... In Her Master Closet
by Christina Marfice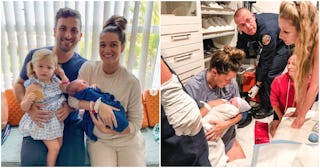 Jade Tolbert / Instagram
Jade Tolbert is now a mom of two post Bachelor
Anyone who's a fan of The Bachelor — or any of its spinoffs — knows Jade Tolbert, one half of one of the cutest couples ever to come out of Bach Nation. Jade was a contestant on Chris Soules' season before he pulled a huge jerk move and sent her home after finding out she had posed for Playboy when she was young. Then Jade showed up on the beach in Paradise and met Tanner Tolbert, and well, the rest is Bachelor history.
Jade and Tanner were already parents to a sweet daughter, Emmy, but those who follow the couple on Instagram know they were expecting their second child together — a boy.
Welp, Baby Tolbert No.2 made his entrance into the world this week, and we think it's safe to say no one expected it to go down like it did. Apparently the baby came so quickly that getting to the hospital just wasn't an option for Jade, and she ended up welcoming their little boy on the floor of her master closet.
Jade shared a photo and part of the story on her Instagram, where she wrote, "I've been still processing the shock of this all, as this was not all at what I had planned, but I am so so thankful for each person who helped bring our son into the world safely."
Um, yeah, shock is probably an understatement.
She continued, "It was one of the scariest moments of my life because I felt so out of control, but Tanner, Tanner's mom, my mom and the medics and firefighters kept me going when I felt like the world was caving in on me and my unborn baby."
She's promised to share the whole story and we're still waiting on that, but for now, it seems like Mom and Baby, whose name hasn't been announced just yet, are happy, healthy, and doing just fine after his scary and unconventional entrance into the world.
And the Tolberts are getting well wishes from pretty much all of Bachelor Nation.
Here's hoping Jade and Tanner are taking plenty of time for their new family of four to bond, and that their new little boy is done giving them scares for the time being. And congrats to one of the Nation's favorite couples on their sweet new arrival.
https://www.instagram.com/p/B0n8YmllFnF/