The Backstreet Boys Have Blessed Us With An Acoustic Version Of 'I Want It That Way'
by Valerie Williams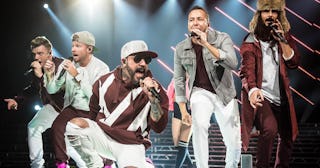 Keith Griner/Getty
This 20th anniversary version of 'I Want It That Way' will make your 90s heart squeal
In honor of the 20th release of their iconic album Millennium, the Backstreet Boys are once again making our hearts sing by releasing a gorgeous acoustic version of the song we all crooned in front of our bedroom mirrors in middle school. "I Want It That Way" stripped down and simple, those sweet, sweet BSB vocals taking us right back to 1999, but better.
That's right – Nick Carter, Kevin Richardson, Brian Littrell, AJ McLean, and Howie Dorough are still around all these years later making new music together and allowing us fans of a certain age to relive some pretty freaking amazing years. If you thought you loved the 90s version, buckle up — this one is somehow even more amazing.
Are you as weirdly emotional as we are right now? The Boys sound undeniably grown-up here and listening to this new rendition makes us realize we grew up with them. So many feels right now.
"I Want It That Way" was the insanely popular lead single off of their third studio album Millennium, which was released on May 18, 1999. The iconic album also brought us the tunes "Larger Than Life" and "Show Me the Meaning of Being Lonely."
"I Want It That Way" hit the number one spot on charts in over 25 countries and Millennium went on to sell 1.1 million copies in just the first week of sales, which was a record all the way back in 1999.
Their chart-topping music wasn't all that made the Backstreet Boys number one on the charts — they were number one in our hearts too. They were part of the 90s boy band craze, and if you're a gal in her 30s or 40s now, you know you had a favorite Boy who featured prominently in posters all over your bedroom. Happily, this throwback single isn't the first time in recent months that our teen crushes made us squeal anew. Their new single "No Place" was released earlier this year and it made us remember all over again why we loved them so much back in the day.
There was also the time they surprised fans with an elevator sing-along for the ages and that hilarious video of them watching teens of today react to their old music. Real talk, I watch that reaction vid on the regular because it never fails to crack me up. It's like chicken soup for my mid-30s woman soul.
The state of the world is pretty terrifying these days. We can't open our phones or watch the news without hearing something that makes us wish we lived in a cave with no internet access, and that's why the Backstreet Boys continuing to pop up in our adult lives is extra wonderful. Heaven bless Nick, Kevin, Brian, AJ, and Howie for growing up with us and staying by our sides as we attempt to adult. It's a whole lot better with their sweet tunes in our ears.