Members of *NSYNC, BSB, & Boyz II Men Team Up For Vegas Show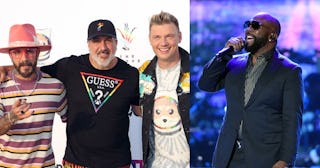 Kevin Winter/Ethan Miller/Getty
Ever wanted to see *NSYNC, Backstreet Boys, and Boyz II Men together in person? Now's your chance
If your go-to playlists still feature a heavy rotation of your favorite '90s boy bands (and absolutely no shame or judgment if so!), we've got the best news of the day for you. Members of Backstreet Boys, *NSYNC, and Boyz II Men are teaming up for a limited show this summer in Las Vegas, which means you can live out your tween and teen fantasies and scream-sing all the hits with them in person.
This August, *NSYNC's Joey Fatone, Backstreet Boys' AJ McLean and Nick Carter, and Boyz II Men's Wanya Morris are teaming up for The After Party, a four-night show at The Venetian Resort's Sands Showroom in Las Vegas. Along with, of course, performing some of their most iconic hits, the foursome will share "untold stories from their time on the road," along with bringing aboard some unnamed special guests, with a set list that is slated to change nightly, according to Variety.
"We wanted to do something with the idea of the Rat Pack meets the pop age now — different artists coming together and doing a show that's fun, but also takes you through a bit of history," Fatone, told Variety. "But it organically also turned into more of a celebration of our bands and a homage to pop culture."
"You're going to see these guys and these groups in a light you've never seen them in before," he added.
"We've had so much fun putting this show together," said McLean. "I can't wait to share it with the fans. I promise an incredible night of wild surprises."
Of course, the guys wouldn't divulge any more info about these wild surprises, but for longtime fans of each group, it's sure to be a special experience. "There's going to be a lot of interesting stories that we don't normally talk about, as far as touring and dealing with funny, interesting things that happened to us," said Fatone. "There's so many parallels, especially between me and the Backstreet Boys' universe, so there'll be a lot of comparisons."
Tickets start at $65 and will go on sale for the show this coming Saturday, July 10, at 10 a.m. PT via Ticketmaster, The Venetian Resort website or box office, or by phone. So far, the show will run from August 19 through August 22, but Fatone is hopeful more dates will be added to the lineup. We don't blame you if you want to throw your bra on stage, but please try to keep it cute — and respectful.