Bahamians Evacuating After Dorian Told To Get Off Ferry Heading For U.S.
by Christina Marfice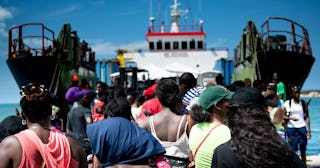 BRENDAN SMIALOWSKI/AFP/Getty Images
Evacuees trying to escape the Bahamas were suddenly denied entrance to the U.S., but no one really knows why
As the world and local residents start to come to terms with the devastating damage to the Bahamas after a category 5 Hurricane Dorian destroyed several islands last week, desperate Bahamians seeking to evacuate just lost one path to safety: the U.S.
Videos posted to social media by Brian Entin, a reporter in the area, show hundreds of people being told to leave an evacuation ferry bound for the U.S. after an announcement that anyone on board without a U.S. visa needs to disembark, even though Bahamians are generally allowed to enter the U.S. without visas. The video shows lines of people leaving the ferry. One person on board said at least 130 people — including families with children — had been forced to leave the boat and go back to the island they're trying desperately to escape.
Bahamians have been being evacuated on humanitarian cruise ships, including to the U.S., seemingly without any issues. Reporters don't know what has suddenly changed to not allow evacuees to come to the U.S. without visas.
Current immigration rules state that people from the Bahamas can enter the U.S. by plane without a visa — they just need a valid Bahamian passport and a clean police record — if they obtain pre-clearance at the airport of origin. But since the Freeport Airport in the Bahamas — one of the two where travelers can get that pre-clearance — isn't operational right now, cruise ships and ferries are some of the only ways out for people fleeing Dorian's devastation. The rules for people entering by boat are not as clearly defined, but up until now, it seemed like immigration officials were allowing people from the Bahamas to enter the U.S. by sea as long as they had proper documentation of their identities and no criminal record.
"CBP relies on the transportation companies in both the air and sea environments to be engaged in ensuring the safety and well-being of any individuals that have been devastated by this tragedy and that requires transparent communication and planning for adequate resources to receive any arrivals," U.S. Customs and Border Patrol said in a statement on Sunday. There's still no word from them on what exactly Bahamians need to do in order to be able to get into the U.S. as evacuees, but CBP is claiming this is the ferry company's fault. The ferry operator says the order to have people without visas disembark came from CBP.
While reporters are still trying to figure out exactly where this confusion and directive came from, some, including presidential hopeful Beto O'Rourke, are pointing fingers at an administration that has a long track record of sudden rule changes that attempt to deny U.S. entry for refugees and people of color.
This article was originally published on