Baking Is My Absolute Favorite Stress Reliever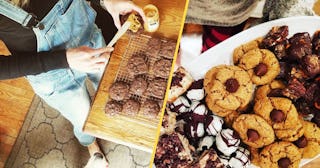 Katie Bingham Smith/Instagram
The first time I made a batch of cookies, I was six. My mother let me have my way with her recipe box and tins of flour and sugar. I felt like such a grownup after watching her bake scrumptious cakes, cookies, pies, and cream puffs for years.
That afternoon in the kitchen, I was so proud of myself as I pressed the fork into the peanut butter cookies trying to get them to look as professional as my mother's. Then, I served them on a pretty plate and called my family in the kitchen to try them.
RELATED: Kids' Baking Sets & Junior Cookbooks For The Aspiring Baker Or Chef In Your Fam
My insides crumbled a bit when my family let me know they were great, but I seemed to have forgotten the sugar. "They are beautiful though!" they exclaimed. I remember one of my sisters even forced down two cookies because she felt so bad for me.
Despite the lack of sugar, that was the start of my baking career. I realized that day getting lost in a recipe (so lost I forgot the damn sugar) gave my busy mind a bit of a rest. There was something about concentrating on something and taking the time to make it look pretty that was incredibly cathartic for me.
I was an anxious child and now I'm an anxious adult. But all that melts away when I'm cracking eggs and trying to frost a cake so it looks like the one on the cover of Family Circle Magazine.
To this day, I find myself searching for recipes to bake when I'm stressed and need an escape. In fact, later today I'm headed to the store to get ingredients to make chocolate cookies with peanut butter chips even though I have an apple crisp in the fridge right next to a three-layer carrot cake. I just need to bake.
And there's nothing like making something delicious for a new neighbor, a good friend, or a family who has just had a baby. The shot of dopamine you get when people are excited to see your baked goods is real.
In fact, one of the reasons I look forward to the holidays is because I can bake all the cookies my mother used to make and pass them around to loved ones. There's something that about this ritual that brings me so much peace — even despite the backaches I get from rolling balls of dough in sugar and cutting our holiday shapes from old cookie cutters.
I love gathering recipes — a combination of old ones and new ones. I love heading out the store with my list so I can start creating. And I love showing people my love and expressing my creativity. Of course, stealing chocolate chips and from the bag and filling my house with wonderful smells from my sugar-loaded treats soothes me like nothing else.
To me, baking feels like a covering myself with a warm blanket from the dryer. I get excited walking up and down the aisle of the baking section thinking about how I can decorate my kids' birthday cakes.
And science backs all of this up. There's actual proof that being creative — and baking is creative, of course — can be a great stress reliever. In an article penned for Huffington Post, associate professor of psychological and brain sciences at Boston University, Donna Pincus says, "There's a lot of literature for connection between creative expression and overall wellbeing. Whether it's painting or it's making music [or baking], there is a stress relief that people get from having some kind of an outlet and a way to express themselves."
Since I've never been patient enough to meditate, I find when I need to tune out, I reach into my pantry and start mixing away. It's able to calm me in a way a few hours in front of the television can't.
There's something about decorating a cake, or trying to form my pie crust into a frilly pattern along the edges that makes me feel incredibly satisfied.
And when I'm feeling low, it definitely helps to take that energy and move my hands and mind and get lost in something other than my thoughts about my life.
Baking to cope with anxiety and depression is actually a thing. In fact, the winner of 2012's "The Great British Bake Off," John Whaite, said baking has helped him with his depression.
So, if you've never given baking a try to take the edge off, I can't recommend it enough. It's sure to lift your mood, get you to try something new, and will make you feel a sense of accomplishment. Even if you forget the sugar.
This article was originally published on