Children Forced To Bundle Up In 30-Degree Classrooms With No Heat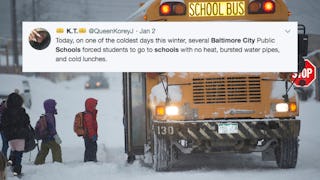 Image via Topher Donahue/Getty Images
Students had to wear coats and hats in classrooms that barely reached 40 degrees
After Christmas break earlier this week, students and staff in several Baltimore schools returned to classrooms without heat and burst pipes — all amid freezing temperatures. During circumstances such as this, one would think the schools would temporarily close until the problems could be solved, but that wasn't the case.
Students were forced to bundle up in coats, hats, and gloves and continue on with their school day — even though classroom temperatures were in the 30s.
All in all, four Baltimore schools suffering from infrastructure issues and lack of heat eventually closed on Wednesday, but students still had to endure an entire day in frigid temperatures on Tuesday. That's roughly eight or nine hours in 30 degree temperatures — all the layers, coats, and gloves in the world aren't going to make a difference after spending that many hours in that kind of cold.
Come on, how effective could that school day have really been? It's probably pretty hard to absorb information for eight hours when all you can think about is how freezing you are. Not to mention it's practically impossible to grip a pencil and write or even type with winter gloves on.
Samierra Jones, a college senior and Baltimore County Schools alum, created a GoFundMe to help provide space heaters in classrooms en masse.
"Baltimore City Public Schools are currently operating with an inadequate heating system," she states on the donation page. "Students are still required to attend classes that are freezing and expected wear their coats to assist in keeping them warm. How can you teach a child in these conditions?"
The goal of the fundraiser is to raise $20,000, which will provide space heaters and outerwear to help keep students warm.
The Baltimore Teachers Union is urging the city to shut down all schools until the heating problems can be addressed, according to The Baltimore Sun. "This is the best way to ensure the safety of our members and our children," says union president, Marietta English.
This crisis is just one of many ways lower-income areas suffer — many Baltimore County students rely on free meals at schools, as well as after-school care provided by many schools in the area, The Sun reports. That being said, the safety of being at school is certainly compromised when frozen pipes have burst, and old, drafty windows coupled with broken down heating systems result in frigid classroom temperatures.
Former NFL player — and current elementary teacher in Baltimore — Aaron Maybin is urging people to donate and help.
He shared a video of his students from earlier this week on Twitter as they talk about how cold they are.
Unacceptable is right. While we could certainly sit back and blame corrupt systems, politicians, failed funding, and administration issues — and it wouldn't be wrong to do so — if you'd like to help get these kids what they need so they can get back to school, you can donate to the GoFundMe here.
This article was originally published on