by Alison Lee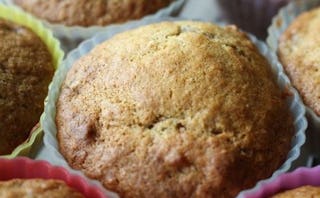 Six years ago, I nearly killed my sister. With a carrot muffin.
It was our first attempt at baking a muffin. We followed the recipe word for word, measurement for measurement. The batter didn't look quite right ("Is it supposed to look like…. cookie batter?"), but we pushed on.
They were the worst things that ever came out of an oven. The carrot muffins looked and felt like rocks. I pretend threw it at my sister's head and nearly knocked her unconscious.
Traumatized, I didn't attempt muffins again until earlier this year.
Now, I am obsessed with them (thank you Pinterest!). They are quick and easy, delicious, and you can go sweet or savory. They are the perfect vehicle for flavor experimentation.
I created this recipe from tweaking a banana bread recipe. I love coconut so much, I pretty much put it in anything.
These muffins? I ate three in a row. You've been warned.
Banana Coconut Muffins
Ingredients:
1 1/2 cups plain flour, sifted
1 tsp baking soda
1/4 tsp baking powder
1/4 tsp salt
1/2 tsp ground cinnamon
1/2 cup coconut oil
1 cup light brown sugar
2 eggs
1 tsp vanilla extract
1 1/2 cups of mashed banana (about 3-4 small bananas)
1/2 cup shredded coconut
Directions:
Preheat oven to 350°.
Grease 12 muffin cups with butter or coconut oil, or line them with paper liners.
In a small saucepan, warm your coconut oil just until it melts. (But is still on the cool side.)
Sift the flour, baking soda, baking powder, salt, and cinnamon into a bowl and set aside.
Whisk together the coconut oil, brown sugar, eggs, vanilla extract and mashed banana until well blended.
Stir wet ingredients into the dry ingredients, do not over mix.
Carefully stir in the shredded coconut until fully mixed. Divide batter among prepared muffin cups.
Bake until a cake tester inserted into the center comes out batter-free, about 16-18 minutes. Transfer muffins to a rack and let cool.
Muffins are best eaten on the first day. Keep them in an airtight container and they should remain moist for up to two days.
This article was originally published on