Obama Meets With Greta Thunberg: 'You And Me, We're A Team'
by Christina Marfice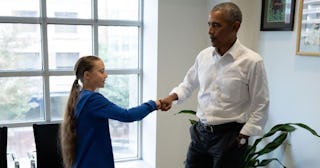 Barack Obama/Instagram
Greta Thunberg and Barack Obama's powers combined might actually be able to save the world
Sixteen-year-old Swedish activist Greta Thunberg is continuing a packed visit to the U.S., where she's staging protests and holding meetings with leaders about the climate crisis many of them deny even exists. One of her latest meetings was with former president Barack Obama, and if anything is going to give us hope that the world might actually be OK, it's these two combining their powers of good to save the planet.
"At just 16 years old, @GretaThunberg is already one of our planet's greatest advocates," Obama wrote in the caption alongside a photo of himself and Thunberg fist-bumping in his office. "Her age might have something to do with it. With full knowledge that her generation will bear the heaviest burden of climate change, she's unafraid to believe that progress is possible—and fight for real change."
He was apparently very impressed because he took to Twitter with even more words of praise for the teen. "She embodies our vision at the @ObamaFoundation: A future shaped by young leaders like her," he writes.
Ain't that the truth. Thunberg has organized student rallies to protest climate change all over the world, often responding to officials and leaders who say the kids should be in school with, "Why study for a future we may not even have?" Thunberg's generation will bear an unfair brunt of the climate crisis that governments are refusing to address now, and that's why she's such an outspoken advocate.
The teen leader rose to prominence when she organized three weeks of sit-ins at the Swedish parliament. Her actions went viral on social media, and she's since been traveling to organize other teens and children to join the fight against climate change, netting a nomination for a Nobel Peace Prize in the process.
Most recently, she spent 13 days sailing to the U.S. on a zero-emissions sailboat to bring her fight for change here. She protested at the United Nations, organized a kids' protest at the White House, and has plans to address the United Nations Climate Action Summit in New York next week. Before that, on Friday, she's holding a worldwide climate strike, urging kids to leave school for the day to protest adult inaction on something that will so heavily affect their futures.
And through it all, Thunberg has had a strong message for Donald Trump, one of the most powerful climate change deniers in the world: "Listen to the science. He obviously doesn't do that, so as I always say, if no one has been able to convince him about the climate crisis, the urgency, then why should I be able to do that? So I'm just going to now focus on spreading awareness and getting people in general to start caring and realize how big of a crisis this is."
This article was originally published on