Obama Plays Santa For Patients At Children's Hospital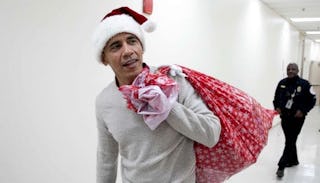 Image via Twitter/Children's National Hospital
Obama surprised little ones at a children's hospital and our hearts can't take it
In case your heart felt a little hollow this holiday season, allow President Barack Obama in a Santa hat delivering gifts and general joy to patients at a children's hospital to fill it right up again.
Obama visited Children's National Hospital in Washington D.C. yesterday where he surprised little patients and their families with his special blend of big-hearted charisma and humor.
Warning: if you already miss him with your whole heart, this video will make you feel many things.
Donning a red Santa hat and his signature casual Dad attire, Obama walked the halls with a smile, going door-to-door to visit with patients and staff over the course of his 90-minute visit.
Amy Goodwin, the head of public relations for Children's National, tells PEOPLE "It was truly a wonderful surprise! One of the kids started crying, and another child, who had been too weak to stand for the last few weeks, insisted on getting up to stand for a photo with Obama."
Does that visual make anyone else instantly need to wipe their eyes, or just me? Cool.
PEOPLE reports that while visiting a little boy who had a Captain America-printed pillow, Obama gave some pretty great superhero-related advice that will probably make your tears keep flowing. "The thing about superheroes is that they always have something to get over, some sort of struggle. Because if everything was easy, there would be no point to them being a superhero," Obama told him, adding, "That's kind of like you!"
Is he trying to make us beg him to be President again? Because I'm not above it.
Along with his special one-on-one visits, he gave a short speech to the crowd of staff and families. "I just want to say thank you to all of you guys. We had a chance to talk to some of the wonderful kids and their families," he said. "At a time that, obviously, is tough for folks, and as a dad of two girls, I can only imagine in that situation to have nurses and staff and doctors and people who are caring for them and looking after them and listening to them, and just there for them and holding their hand. That's the most important thing there is. What a great reminder of what the holiday spirit is supposed to be about."
He also sent out a tweet about his visit thanking them for "humoring" him as a stand-in Santa. Um, sir, we very much doubt anyone was merely humoring you. Just saying.
Our entire hearts. It's probably safe to say none of us appreciated this amazing man enough for the eight years we had him as our President, but we hope he knows we sure do now.
This article was originally published on