Turns Out, Barbie Has A Last Name -- And The Internet Is Freaking Out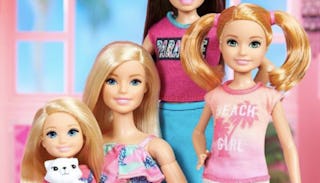 Image via Instagram/Barbie
Barbie has a last name, and now everything has changed
Get ready to have your mind blown. It's been officially revealed that Barbie has a last name, and the internet is feeling a whole bunch of feelings. Some are thrilled. Some feel betrayed. Some just really want to have an in-depth chat about the Barbie universe, which is fair enough.
The big reveal happened when Barbie's official Twitter account posted a snapshot of the whole crew, along with a message that read: "Happy #SiblingsDay, from the Roberts sisters!"
Ummmm wow….thanks for the casual bombshell, Mattel. People felt pretty weird about this whole last name twist. And FYI, her full name is Barbara Millicent Roberts. So formal.
https://twitter.com/jetpack/status/984835399347572737
Also, several Twitter users pointed out Barbie's solid gold Wikipedia page, which notes that the doll was in an on-again off-again relationship with Ken but — according to a Mattel press release in 2004 — the couple have decided to officially go their separate ways. In happier news, Barbie apparently owns 40 pets (including a lion) and has a pilot's license. She both flies her own planes and works as a flight attendant on said planes.
I know it's a big deal that Barbie has a last name – but can we also take a second to appreciate how good our girl is doing in life? You keep doing you, Barbie.
In case this is giving you a hankering to find out more about our favorite blonde friend, Barbie's Instagram is jam-packed with updates. Like, apparently she has her own bistro truck because, honestly, why not?
She also pretty much looks exactly like Reese Witherspoon in Wild.
Annnnd she still hangs out with her ex-boyfriend, Ken Carson, (yup, he has a last name too — we can't deal) even though I'm sure this picture is not fully capturing the true awkwardness of the moment.
Keep being a rockstar, Barbie Roberts. We'd all gladly hop on your plane any day of the week. Ken Carson can stay at home.