Barbie Now Comes With A Prosthetic Leg And A Wheelchair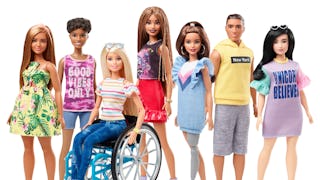 Image via Mattel
Barbie has come a long way toward looking like every child who loves her
Barbie has come a long way in the 60 years since she first hit toy store shelves. From the blonde, thin, tall, white woman we saw in the original Barbie, we now have a whole range of dolls in different shapes, sizes, colors and careers, striving to both represent all kids who love to play with them, and to show them that they can achieve any future they dream of.
The latest designs for Barbie's Fashionista line is yet another step forward for inclusivity and representation in dolls. Barbie now comes in a wheelchair, or with a prosthetic leg, giving kids with certain disabilities the chance to see themselves represented in the iconic dolls.
"As a brand, we can elevate the conversation around physical disabilities by including them into our fashion doll line to further showcase a multi-dimensional view of beauty and fashion," Mattel said in a statement announcing the new dolls.
The Barbie who comes with a removable prosthetic leg is the result of a collaboration with 13-year-old Jordan Reeves, founder of the nonprofit Born Just Right, which helps find "creative solutions that help kids with disabilities live a more enjoyable life." In a Ted Talk, Reeves talked about her own struggles to find dolls that represented her, and when Mattel caught wind of her inspiring words, they reached out about the collab.
"Thank you to the Barbie team for taking the time to listen to Jordan as they've worked through this design process," Born Just Right said in a statement on its website. "It's an honor to be a part of a project that has been so important to us for so long. We hope this is just the beginning of mainstream dolls that represent physical differences."
People are already taking note of the new Barbie line and applauding Mattel on Twitter, both for creating these dolls, and for working with people with disabilities during the process.
Mattel has introduced a number of other inclusive dolls in recent years, including dolls of different races, heights and body types. Many of them belong to the Fashionista line, a special collection that's introduced all kinds of diversity to Barbie.
These kinds of changes have made the Barbie universe infinitely more realistic, and given all kinds of kids the chance to play with dolls that look like them, something research shows helps kids become more compassionate, empathetic and independent. Representation matters so much, and all kids deserve to be able to have toys that both look like them, and reflect the actual world they see around them. These new additions to the Barbie universe will do just that.
The two new Barbies in a wheelchair and with a prosthetic leg will be available to purchase sometime later in 2019, though an exact date hasn't been announced yet. We'll definitely be watching for them.