10 Things To Do In Barcelona With Kids
by Kirsten Maxwell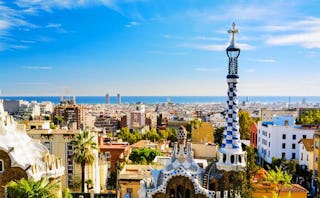 Barcelona is a beautiful city for the whole family to explore. From the quaint alleyways and narrow streets that are built for wandering, to the wide open promenade that winds along its beaches, Barcelona draws you in and beckons you with its magic. It has enough culture, history and yummy food for both kids and adults to enjoy. There are plenty of things to do in Barcelona with kids, so we've curated a family-friendly agenda.
Best Places to Stay in Barcelona
The hotel choices, even with kids, is practically endless in Barcelona and the surrounding areas. If you're looking to add to your hotel reward points (free hotel room for another trip w out the kiddos?), the trendy Cotton House is modern meets historic. Smack in the city, in the middle of all the sights, is Le Meridien Barcelona.
If the luxury of a hotel, but the convenience of a private apartment sounds perfect (we say yes!), Casagrand Luxury Apartments offer 1-5 bedroom spaces with hotel services (concierge, room service, and a spa).
If no hotel is kid-friendly enough for you, and you need your own house or apartment (mini kitchen? kids get their own bedroom?), Airbnb has some of our all-time favorite Barcelona abodes — from a condo with Gaudi views in the Plaza de la Sagrada Familia to a centrally located 3 bedroom flat to a rooftop terraced apt in Eixample.
Best Experiences in Barcelona for Kids
We know you used to enjoy wandering the city with no destination, but let's be realistic and accept that you're with kids and kids need things to do. Put down their tech devices (and yours) and plan a few special experiences that are unique to Barcelona. Everything from a paella fiesta and market tour to kayaking the Costa Brava to a walking tour of Picasso's Barcelona can be booked beforehand.
When we visited Barcelona, we wanted to experience the city as locals. We went the Airbnb route and rented an apartment right in the heart of the city, centrally located in the Gothic Quarter and within walking distance to shops, restaurants, and the famous boulevard of Barcelona, "La Rambla". We lived like the locals but hit all the tourist sights. Here are our favorite things to do should you find yourself in this stunning city.
1. La Sagrada Familia. This world famous unfinished basilica by Antoni Gaudí is as intriguing outside as it is on the inside. Visible from most parts of the city, the kids were constantly asking, "What's that strange shaped futuristic building with the cranes on all sides?" I probably asked that same question when I visited twenty years earlier! The building never seems to really change, and is under constant construction.
The creation of Sagrada Familia began under Gaudí in 1883 and at this point, completion is expected in 2026, the 100th anniversary of Gaudí's death. It's unlike any church you have ever seen. There are two towers, the Nativity and the Passion. An elevator will take you to the top of both, but you will have to walk down the 300+ winding staircase of the Nativity, whereas you can take the elevator for a return ride on the Passion. Note: Children under 6 are not allowed entrance to either tower, and those under age 14 must be accompanied by an adult.
Be sure to book tickets in advance of your visit through the basilica's website, since queues can be horrendous and you don't want to miss your opportunity to see the stunning interior. I'd recommend arriving early, purchasing the audio guide (this always keeps the kids entertained), and going up one of the towers for a spectacular view of the city.
2. Casa Milà, or La Pedrera. Another from the mind of Gaudí, Barcelona should be called "the city that Gaudí built." He placed his stamp on building after building, parks, and cathedrals, but La Pedrera is one of his more famous creations. To avoid the queues, purchase your tickets ahead of time. Children under 6 go free.
Our kids loved exploring the unique hallways, touching the mosaic tiles, and wondering aloud about the crazy shaped chimneys on the roof. Just keep an eye on kids on the rooftop, as it isn't the safest place for them to be wandering around unattended. The rest of the building includes an attic space and apartment with information about the artist and his work. Some visitors complain about the cost, but the view and the unique architecture were priceless in our book.
3. Montjuïc Castle sits majestically above the Barcelona harbor and while it may not be the most impressive castle, it does provide a panoramic view of the Mediterranean and the city below. The journey to reach Montjuïc is half the fun. The most common method is to take a funicular (Funicular de Montjuïc) from the Paral.lel Metro Station, then you can transfer to a cable car (Teleférico de Montjuïc) that will take you almost to the top of the castle. You have to walk the remainder of the way uphill, which takes around 10 minutes. If you don't want to transfer to the cable car (we chose not to), it's a 20-30 minute walk to the castle from the funicular stop.
Once you arrive, head into the castle grounds where the kids will enjoy climbing on the cannon guns, crossing the moat, or looking out over the ramparts. The entrance fee is €5 for adults, and children under 16 go free. Inside you can learn about the history of the castle and explore the foundation ruins, as well as taking in the spectacular views. The area surrounding the castle includes a park and gardens perfect for picnics, so if you want to make a day of it, bring your own food because options are limited once you get to the top of the mountain. If you do need a quick bite, though, there's a snack cart available just outside the walls of the castle.
4. Teleférico del Puerto (Aeri del Port). This is different than the cable car used to reach Montjuïc Castle when connecting via funicular. It's a magnificent cable car ride that will take you from the beachfront to Montjuïc and back again. If you want to go round trip, be sure to say "Anada i tornado" when purchasing a ticket. We only took the trip from the top of the mountain down to the port and it was truly worth the experience. You enter a cable car with up to twenty other people and you are suspended high above the city as you make your way down to the port below. Everyone jockeys for position to take photos in the beginning, but we found that everyone took photos and switched around once the ride began. There were a lot of "oohs and aahs" and at the end, the kids asked, "Can we do that again?"
It's worth noting that the cable car usually doesn't run on windy days, and for obvious reasons, this is not for the faint-hearted. The queue at the port is often long, too. If you can make your way to Montjuïc via a different mode of transportation, purchase a one way ticket from the station and ride it to the port.
5. Poble Espanyol. We stumbled across this open air architectural museum located in Montjuïc Park while exploring the nearby Olympic Stadium. This museum reminded us of Disneyworld's Epcot, which we actually enjoy. There are 117 buildings reproduced to scale, along with squares, restaurants, and shops that represent many of Spain's diverse regions. We wandered the streets and alleyways, ducking into the various shops to explore the handiwork of the artisans, and sampled food at one of the restaurants. The main square is a wonderful place to enjoy a snack and let the kids run around. They have a reduced family admission price and if the weather is pleasant, this makes for a nice afternoon.
6. The main beach for tourists is Barceloneta, located within walking distance from the center of town. There is a promenade that runs along the beach that is wonderful for a stroll, run, or bike ride, and the beach itself is fairly clean. If your kids aren't used to topless sunbathing, you may want to give them a heads up. With three boys we had to remind them not to stare or point. Giggling was unavoidable. Mind your valuables on the beach and know that if you get hungry, there are plenty of food options nearby.
7. There are fresh food markets all over Barcelona, but there is only one Boqueria Market. The market is a feast for the senses, and when you enter, you will be overwhelmed. Everything is so visually appealing you won't know where to begin. The kids loved the endless variety of fruit smoothies, and we were able to pick up groceries to bring back to our apartment. We have found that fresh markets are always a good option for our child with food allergies. Whatever food you can dream of, odds are, it can be found here. The market can be quite crowded, so be sure to mind your belongings and keep your kids close so they don't wander off. It might be a good idea to establish a meeting place in case your party gets separated. Afterwards, you can take a stroll along the pedestrian friendly main thoroughfare La Rambla and take in the sights and street performers.
8. Museu de la Xocolata. When we told the kids we were headed to the museum, we were met with lots of complaints. The second we confessed we were actually headed to a Museum of Chocolate, it was a virtual foot race to see who could get there first. The museum is located at Carrer Comerç 36 close to the Barri Gotic and the Jaume I metro stop. It is a fairly small museum, so don't plan on spending a lot of time there, probably an hour or less. Everyone receives a piece of chocolate as their admission ticket. There are sculptures made of chocolate, a history of chocolate in Europe, and an explanation of the chocolate making process. Of course there is chocolate to be purchased as well. I would definitely say this museum is more for the kids, but it is a fun place to stop if you are in the area.
9. Barcelona is known for tapas (small bites of food), and if you're looking for a reasonably priced restaurant, head to L'Ostia, Plaza de Barceloneta, 1-3. The restaurant has al fresco dining and is located in a secluded city square in the Barceloneta neighborhood. The food is fresh, the service is friendly, and the dishes are creative. Located a few blocks from the waterfront, the kids might enjoy walking back towards the main part of the city and catching a rickshaw (versus a taxi) for the ride home. This is an exciting way to see the sights!
10. A great option for pizza and pasta is Gino's, (Via Laietana, 71), an inexpensive Italian restaurant with multiple locations throughout the city. Not only does the restaurant offer a kids' menu, there is also a gluten free menu. The restaurant even offers takeout if you want to take the meal back to your place.
From the churros y chocolate at the corner restaurant, to the sandy beaches, to the vivid colors of La Boqueria market, our kids loved how Barcelona was a playground for their senses. Living as a local allowed our family to embrace the Catalan culture and people and learn about city life. It was an experience our family will never forget.
Best Things To Pack For A Trip To Barcelona
Exploring a walkable city like Barcelona requires comfy (but still cool) shoes. Classic white Converse go with absolutely everything (shorts, jeans, maxi dresses) and the more beat up they get, the better they look. Barcelona's sunny climate calls for a few layers of protection – there's of course sunscreen (this tinted one from Coola Mineral Face Tinted Moisturizer SPF30 makes skin look refreshed and dewy) and top it off with a wide brim packable straw hat. For a grab-and-go look, this R. Vivimos Women's Long Sleeve Floral Print Midi Dress has been everywhere (see: Today Show, PEOPLE, Glamour) and comes in 36 color schemes in sizes xs to xxl. You can also throw it over a bathing suit (Barcelona is a beach city!). This Aerie Strappy Back One Piece swimsuit has a 5-star rating and is super flattering. Throw your Sun Bum tinted lip balm (and your other family essentials) into this striped canvas Baggu tote and you're set each am.
A Daily Ritual jumpsuit is very versatile and travels well, perfect for planes, trains and automobiles and everywhere in between (it can also be washed in the sink in a pinch). For late-night dinners, jeans and a tee are in style everywhere. These straight-leg Levi's have a classic fit with a youthful touch (that's what we're calling ripped knees). Make sure to pack some no-show socks because the ankle-skimming length goes very well with the sneakers and pair it with another classic in multiple colors: a Hanes crewneck tee.
Although we only recommend picks we really love, we may earn a commission on purchases made through links from our site.
This article was originally published on