Your Kids Can Build Harry Potter Legos For Free At Barnes & Noble This Weekend
by Thea Glassman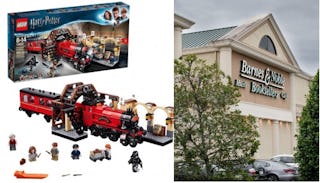 Image via LEGO/Marcus Ingram/Getty Images
Some Barnes & Noble stores are giving away free Harry Potter legos this weekend, and life just got so magical
Grab your wands, broomsticks, and Hogwarts house colors (whaddup Hufflepuffs), because Barnes & Noble is giving away free Harry Potter Legos this weekend. Supplies won't last long and only select stores are handing out freebies, so read on for all of the essential details. Wizard costumes aren't mandatory, but should probably be worn anyway.
The 20th anniversary of Harry Potter and the Sorcerer's Stone is coming up, and Barnes & Noble is celebrating by offering up a whole bunch of cool swag. Before we all get too excited, check out the list of participating stores here to make sure that your nearest bookstore is involved in this giveaway.
If they are, prepare for so much HP joyfulness. On August 4th at 2pm, stores will hold a Lego building event where families can put together a mini Hogwarts Express train and bring home their creation free of charge. There's also going to be a 25% discount on Harry Potter paperbacks and a whole bunch of new Harry Potter Lego products for sale.
So, yes, that means that the whole fam can now build replicas of Hogwarts Great Hall, Aragog's Lair (sorry Ron), Newt's Case of Magical Creatures, and more, in the judgement-free zone of their living room.
If this is all very thrilling, but you'd like even more ways to celebrate The Boy Who Lived – hang on to your cauldrons. There's plenty of other exciting 20th anniversary products out there.
You can now purchase newly designed cover illustrations of each book in the series, which look pretty hauntingly beautiful.
And, if you happen to be in New York City, head to the Upper West Side museum between Oct. 5 – Jan. 27 to check out a whole bunch of Harry Potter memorabilia, including letters J.K. Rowling wrote to her editor and costumes from Harry Potter and the Cursed Child. There's also the original sketch Rowling drew of the Hogwarts school grounds, and be still my everloving HP heart.
"The show offers a unique opportunity for Harry Potter fans as well as history lovers to engage in and enjoy the history of magic that makes J.K. Rowling's works such extraordinary literature." Louise Mirrer, president and CEO of the New-York Historical Society, said in a statement.
In the immortal words of Professor Snape, we will always love the HP series. Seriously, always.