Live-Action Barney Movie With A 'Modern' Spin Is In The Works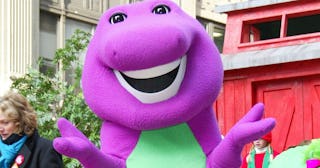 Matthew Peyton/Getty Images
A live-action movie based on the classic tv character Barney is in the works
Today in "Go on?" news, Daniel Kaluuya — the lead actor from Get Out — is set to produce a live-action Barney movie that is reportedly going to "surprise audiences and subvert expectations" and sounds like it might be a grown-up take on the classic PBS series for preschoolers. Very little is known about the new project, but Kaluuya and Mattel are teaming up to produce and according to the toy manufacturer, it's a "completely new approach to Barney."
"Working with Daniel Kaluuya will enable us to take a completely new approach to Barney that will surprise audiences and subvert expectations," a Mattel Films exec told Variety. "The project will speak to the nostalgia of the brand in a way that will resonate with adults while entertaining today's kids."
Barney for adults? Okay, go on. "Barney was a ubiquitous figure in many of our childhoods, then he disappeared into the shadows, left misunderstood," Kaluuya added.
Barney & Friends was canceled in 2009, but we're digging the darker tone here. The big purple dinosaur didn't go off the air, he "disappeared into the shadows." Spooky. Also, Kaluuya is a prestige actor, you know? Is he really going to produce some kid-friendly romp? That's what makes us wonder what exactly this movie will entail. Is this like, "and the Oscar goes to so-and-so for their role as Barney in Barney!"
"We're excited to explore this compelling modern-day hero and see if his message of 'I love you, you love me' can stand the test of time," Kaluuya said, while an exec at Valparaiso Pictures — who is co-producing the film — added, "Barney is a dinosaur from our imagination, and we can't wait to get 'I love you, you love me' stuck in heads everywhere, yet again."
I mean, do we wanna get that song stuck in our heads? That is the real question. Kidding! We're actually very intrigued by this new film. It almost feels like a Barney biopic despite the promise that it will still entertain "today's kids." It sounds both PG and dark all at once, and we'll cheers to that.
Even though PBS canceled Barney & Friends in 2009, you can still catch re-runs on certain cable channels and you can watch episodes and clips on the official YouTube channel, which is updated every day. However, during the '90s and aughts, Barney was king. During that era, kids could watch two shows: Barney & Friends or Sesame Street. That's it. There was no Daniel Tiger's Neighborhood. There was no Paw Patrol. Every lunchbox and t-shirt was covered in images of the friendly anthropomorphic dino.
Maybe it's time for the new generation to see what an icon Barney truly is. We're in.