Knock It Out Of The Park With These 10 Baseball And Softball Coloring Pages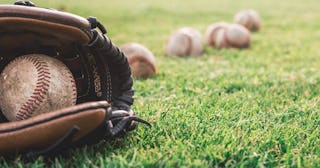 Steshka Willems/Pexels
Baseball is America's favorite pastime, and is it any wonder why? It's fun to play, it's entertaining to watch, and it's an incredible way for kids to learn about things like teamwork and hustle. But, if your kids are more artistic than athletic, baseball coloring pages and softball coloring pages may be more their speed. And, that's OK. One of the best parts about sports is that there are plenty of ways to pay tribute. Baseball coloring pages are an excellent way for anyone to acknowledge the sport.
One reason sports make for such dynamic printables? You can always find an opportunity to get creative with team jerseys and colors. Feel like making a baseball team that's totally rocking a lime green look? With baseball coloring pages, that dream can become a reality. Another cool way to make these free printables personal is to have your little one add their favorite number to the pages. Or you could use each page to teach them about famous players throughout history, from Babe Ruth to Derek Jeter and Jennie Finch to Lisa Fernandez.
Now, ready to play ball? Swing for the fences with these great baseball and softball coloring pages. And when you're finished, take a whack at our basketball coloring pages, soccer coloring pages, and football coloring pages.
Free Printable Baseball and Softball Coloring Pages
Play Ball! Page No. 1
If you ask us, a tongue sticking out is a sure-fire sign that a baseball player will hit a home run. Have some fun with this one by creating a background. Make sure he's standing on home plate, and consider putting a scoreboard in the back. You can create a team name on the scoreboard, the jersey, or both to add even more fun.
Play Ball! Page No. 2
What's baseball (or softball) without a bat? The first "official" baseball bat appeared on the scene in 1857, with all early versions of bats being comprised entirely of wood. Today, baseball and softball bats are made from either hardwood or a metal alloy like aluminum. You can make the bats on these pages very traditional by using shades of brown and tan to shade them in, or you can go wild and make the top and bottom bat a sparkly metallic color. It's all up to you.
Play Ball! Page No. 3
Aside from your bat, other gear is necessary to play softball or baseball — one of which is the beloved baseball glove. In the words of former MLB'er Dave Winfield, "There are a lot of people who influenced me, nurtured me, helped me along the way. But I can just recall, looking back, the first time I got my baseball glove."
Play Ball! Page No. 4
Ah, there's nothing better than hitting the ball and getting on a base! Anything can happen in baseball and softball, which is why it's such an exciting sport to watch. You can make this character represent Team USA by giving them a lively red, white, and blue uniform.
Play Ball! Page No. 5
It's always important to pay respect to the catcher — they have one of the most challenging jobs. Think about it: They need to make sure a wild pitch isn't thrown in their face while also making certain players aren't attempting to steal bases. Not to mention, those pitches really zing into the catcher's mitt. For context, California Angels pitcher Nolan Ryan once threw a ball at 100.8 miles per hour. Catchers are on the receiving end of fastballs like that, and they're crouching the whole time! Give this happy catcher some love with a brightly colored uniform and helmet.
Play Ball! Page No. 6
A childhood rite of passage is playing t-ball on someone's lawn during a summer barbecue. Miss those good vibes? This coloring page will help you reflect on the memory. To make this even more personalized, try to shade in the uniform and helmet with your state's colors. And here's an interesting point to keep in your back pocket: Did you know the average baseball game is about three hours long and there are around 162 games in a season? That sure is a lot of baseball. In fact, the longest baseball game in MLB history was eight hours and six minutes. It was in 1984 and between the Chicago White Sox and Milwaukee Brewers. What a game!
Play Ball! Page No. 7
Sliding into bases is just something most professional baseball players consider to be part of the job. And some pro ballers make stealing bases (which often ends with a slide!) an art form. Hall-of-Famer and 10x All-Star Ricky Henderson holds the MLB record for most career stolen bases with a whopping 1,406!
Play Ball! Page No. 8
Although every player's stance is unique in some way, there are three common types of stances used at-bat: square stance, open stance, and closed stance. The most prevalent of the three is the square stance, where the batter stands with both feet an equal distance from the plate and parallel to the side of the batter's box.
Play Ball! Page No. 9
It's hard to believe but, prior to the invention of the baseball glove, early ballplayers caught with their bare hands. Catcher Doug Allison became the first recorded player to wear baseball gloves — all the way back in 1870 — because his hands were split and cracked from games. Sadly, he was mocked by his teammates for the decision, as was St. Louis outfielder Charlie Waitt, who donned a pair of flesh-colored gloves in 1975 (and was also ridiculed). It wasn't until the mid-1890s that wearing gloves in the field became normalized for players.
Play Ball! Page No. 10
This last coloring page is simple and sweet — a team jersey. If 22 happens to be your number, this page may be extra special.
Click here to print all of the baseball and softball coloring pages at once!
This article was originally published on