5 Reasons Why You Need This Vibrator In Your Life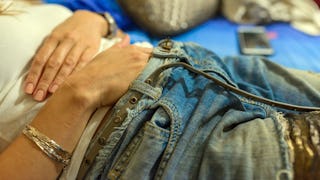 RealPeopleGroup
I'm guessing by how fast you clicked on this article, you've been thinking about visiting vibe town and you're looking for a road map of sorts? Great, I can help.
I'm here to tell you there's no harm in veering out of your (very comfortable) lane and onto the rumble strip (am I the only one who tingles in certain places when this happens?), and get your hand (and your vag) on a vibe.
I was always intimidated by vibrators, toys, and dildos and was a virgin to them for almost the first 40 years of my life. They didn't do a thing for me, and I was doubtful they would do much for my orgasm. But I'm a grown woman and can admit when I am wrong and, believe me, I was very wrong.
Back then, my pre-vibe self only wanted the real thing, with my hands or a partner's hands or other body parts. I wasn't turned on by a big, floppy dildo, and honestly they scared me a little bit.
But I sure am glad I got over those fears and hesitations. Sex toys can enhance the experience between two people and bring your orgasm to a whole different level, creating a bond between you and your partner (as well as helping you take care of yourself) that will last long after the orgasms are over.
Not to mention, a little extra help can spice up your sex life in a big way — especially with this new friend I'm going to tell you about.
The BaseTone portable silicone mini-finger massager is a vibrator I recommend whenever the subject of "to vibe or not to vibe" comes up.
I'd even go so far as to say, if you already have several toys in your pleasure chest and this one isn't in there, it needs to be for several reasons.
1. It's cute.
I mean, just look at her. She's little, she's pink, and she fits on your fingertips. It's not some intimidating vibe that has different gadgets or fingers — not that we don't love that, and there is a time and place for everything — but many people don't want to have to google how to use their new vibe, and this one is really straight forward.
You can tell where it goes by looking at it, no assemble required, and in no time, you will be experiencing a happy ending more epic than any other. Trust me.
2. It's cheap.
No one wants to spend hundreds on a new buzz buddy only to come up dry. I'm willing to bet this will not be your experience with this baby, but if it is, and you are out $13.50 and realize a vibrator isn't in the cards for you, it's not going to sting as bad as it would have if you shelled out $200 for a big gadget you had high hopes for but wasn't able to make your coin purse jingle.
3. It's portable.
Because of its size, you can keep this pink buzzard in your purse or your pocket. You might think you will never carry a sex toy around in the pocket of your favorite dress like I used to, but then I took it for a ride and changed my mind.
You never know when the mood is going to strike. And there is something to be said for hiding your electric lover in the back corner of your sock drawer, freezer, or dash board.
4. Your partner will probably love it.
I say this because it can just enhance what they already do with their hands, because let's face it, if you've been with them for a while, they already know how to hit it right. But this allows them to feel involved, play a role in pleasing you, and have some control over the movement, yet it takes out some of the work. Which is glorious, especially when you are having intercourse and all they have to do is land this magic-maker in the right spot and let it do its thing.
5. It's gentle.
Some people with a vagina are very sensitive in their special place. In fact, some have experienced trauma from their favorite vibrator. This one is soft, gentle, and you control it with one finger which makes it a little easier to back off the gas if you need to.
As a side note, I have to mention, the first time I tried this little gem, I had to go back for more exactly 5 minutes later and wondered why the hell I wasted so many years not using this pearl-pleaser. Also, the orgasm it gave me caused me to have a lovely glow for the rest of the day. I literally get compliments on my rosy cheeks and clear eyes after each use.
If you were looking for a sign to broaden your horizons and open yourself up to new experiences (pun totally intended), then consider this a reason to take the plunge. From one person with a vagina to another, you should give this clit-stick a try if you have been curious.
Oh, and PSA: Amazon Prime has same day shipping. Just thought I'd put that out there.
We may earn fees from purchases made via links on this page and affiliated sites. All opinions are our own.
This article was originally published on