Life's A Beach When You're Filling In These Free Coloring Pages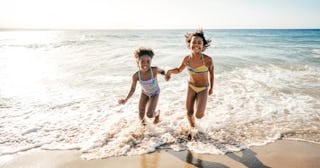 kate_sept2004/Getty Images
With warmer weather starting to peek its way through the cool temps, it's time to focus on being outside. Spending time outdoors is a healthy activity and an exhilarating way to enjoy hanging out with family. But if you've got a long road trip ahead of you, you may want to equip yourself with plenty of fun activities for the kids to relieve some boredom. Beach coloring pages are a great way to do just that.
One of the best parts about beach coloring pages is how they help psych your children up for the super-exciting season ahead. Beach coloring pages burst with sunshine, surf, and of course, sandcastles. In all honesty, what more could you want?
So, break out the colored pencils — maybe even slather on some sunscreen — and print these 10 free beach coloring pages ahead of your family beach vacation. If your kiddo can't get enough, point them in the direction of our other summer-worthy printables: fish coloring pages, parrot coloring pages, mermaid coloring pages, and dolphin coloring pages.
Free Beach Coloring Pages
Beach No. 1
Do you have a family of three? Then, this beach coloring page may serve as a pretty good indicator of what's to come. This page will keep kids occupied for quite some time, based on the little details — from the bird holding the lifebuoy to the boat sailing in the ocean. And, of course, you'll have to build a sandcastle. Did you know the largest sandcastle recorded was 37 feet tall? See if you and your little one can top that!
Beach No. 2
Do you happen to be a fan of the Tom Hanks movie Cast Away? All this drawing needs is a volleyball named Wilson to complete it. Tom's character didn't have crabs, birds, and monkeys on his island, but he'd likely have preferred it over where he landed in the film. This drawing has a ton of personality (just like Wilson, right?).
Beach No. 3
This young child is definitely making sure to be socially distant from the other beachgoers. Get creative when coloring in his beach towel! Will it match the beach ball, or will they both offer a bright array of colors? That's entirely your decision — and there are no wrong answers.
Beach No. 4
This is one of the most majestic sandcastles of them all, don't you think? Complete with flags and even windows, it's a beach palace fit for a queen. Speaking of queen-like beaches, the Casino Beach in Rio Grande, Brazil, is the fairest of them all. It's 132 miles long, making it the longest beach in the world. There are probably a ton of baby shrimp in that sand. Did you know their hearts are in their heads? You could say they think with their hearts. Ha!
Beach No. 5
Summer is more than the beach — and this coloring page makes that clear. Got a spare minute or two? Fill your time by doodling on and filling in this drawing. Wishing your vacation would start now? Well, print the page out. At the very least, you could use it during a Zoom meeting if you want to look busy.
Beach No. 6
There's nothing more refreshing than time in the ocean with your family. This picture is a blast to color in since you get to see what lurks underwater as well as what's above. Much more goes on than we can see below the surface, though — the ocean covers more than 71 percent of the world, and about 90 percent of volcano activity happens underwater.
Beach No. 7
Say hello to another elaborate (and stunning) sandcastle! Since the creator has a big smile on their face, they're understandably quite proud of it. It'd be fun to get detailed with the sand. You can always color it in yellow and give it flecks of brown and orange to look more like the real thing. While your kiddo is coloring their sandcastle masterpiece, blow their mind by telling them there was once an entire motel made of sand. In 2008, four sculptors created the marvel in Dorset, England, using 1,000 tons of sand.
Beach No. 8
This family is living the dream! What's better than sprawling out on the beach, getting some sun? Hopefully, they've remembered the SPF. Need a family-friendly tip for sunny beach days? If you forget the sunscreen but have a white t-shirt, toss it on. A white cotton shirt has an SPF equivalent to seven. Something is better than nothing! You can wear it while you run to the store to grab some Coppertone.
Beach No. 9
Word to the wise — it's probably not the best idea to openly come this close to a crab on the beach. But that's what makes beach coloring pages so special. You can be adventurous with your color choices and your imagination. We especially think bold colors would make the surfboards shine. You could even add a rainbow in the background to symbolize that this beach is in Hawaii. After all, surfing was actually invented in Hawaii.
Beach No. 10
Don't you wish you could live here? Living in a sandcastle might not be the most comfortable living arrangement, but you can't beat that view.
Beach No. 11
A large part of the ocean's beauty is its waves. Can you guess how high the largest wave was? The biggest one ever recorded was 1,720 feet. Imagine being the surfer riding that wave. (Cowabunga!)
Click here to print all of the beach coloring pages at once!
This article was originally published on