Beach Vacation in My Head Vs. Beach Vacation For Real
by Mary Fortune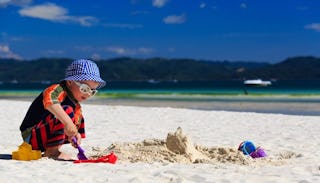 Every winter, I spend the gray, post-holiday months building up the fantasy of Beach Vacation in My Head.
During Beach Vacation in My Head, I do hours of reading in a horizontal state while my skin turns a creamy shade of caramel. I take long, solitary runs along the sand. I dine in sweet little restaurants with my husband; we linger over tropical drinks. My hair looks fucking amazing. It never rains.
My children are somewhere around here, I suppose, but they are occupied studying sea life and journaling about the habits of ocean birds. Or flying kites or whatever. They're definitely wearing linen, wherever they are.
Beach Vacation in For-Real Land goes like this: NO, throwing sand at your brother is not a game you just invented! DID YOU JUST SPRAY HIM IN THE FACE WITH SUNSCREEN? WHAT THE HELL?
During Beach Vacation in For-Real Land, my hours of reading work this way: My younger son, who's 10, sidles up to my chair as I recline and open my book. "Mom, are you almost done reading? When will you be done reading? Are you done now? What about now? How long is that book, Mom? It looks pretty long. Like, 300 pages? It doesn't really look like you're reading. It looks like you're done. What do you want to do now?"
Every single day, everyone needs to eat three damn meals — a soul-crushing fact I avoid much of the year by being at work for many of them. I do more grocery shopping the week of Beach Vacation in For-Real Land than I do the entire rest of the year. Grocery shopping does not feel like a vacation, no matter where you do it. And it's weird, but I NEVER remember the grocery shopping part during Beach Vacation in My Head.
Every afternoon, the summer thunderstorms chase us inside, where my sons apply sand and water to every surface where one might reasonably expect to sit or lie. My hair grows into an immense, frizzy cloud of snarls. Five days in, my skin is covered in red bumps from sand, salt, sunscreen, razor burn and mosquitoes. The condo is decorated entirely in wet towels and mateless flip-flops. (Seriously, why are there six left shoes in here??)
By Thursday, I'm always contemplating an early exit. I could just rent a car, you know? I could just go home and spend a few days by myself. No big deal. That's normal, right?
"It's Thursday of beach week," my friend texts me every year. "Are you ready to come home?"
And let's talk about the packing, shall we? In Beach Vacation in My Head, I toss everything I need into a grocery bag. A small one. Bikini, flip-flops, running shoes, shorts, T-shirts, toothbrush, and let's go, bitches.
Actually that's what I do for Beach Vacation in For-Real Land, too. But at the part where I open my mouth to say, 'Let's go, bitches,' I remember that we have to go install the giant box on the roof of the car to hold all the golf clubs and sand toys. And put 5 coolers in the back and load up all the electronics. Yes, we are those people.
Then there's the unpacking upon arrival. Then the repacking upon departure. Then the unpacking upon arrival. We finish Beach Vacation in For-Real Land more exhausted than when we left, it will take two gallons of aloe to get my skin settled down and my keratin treatment is totally wrecked.
My mother says I'll miss all this chaos one day, but I'm certain that's just one of the 10 million lies she's told me in her merciless quest for grandchildren. I'm on to you, lady. You hear me? I'M ON TO YOU.
"Man, I can't wait for our week at the beach!" my older son recently crowed. He's 15 now, and we are heading back for our 11th consecutive year at the very same place. "It's always the best week of the year," he said. "I love it."
"I know," I said, wrapping an arm around his skinny man/boy shoulder. "It's the best, isn't it?"
Shit yeah, it is. Because it's still Beach Vacation in My Head, and there's really no reason to start Beach Vacation in For-Real Land until it's absolutely necessary.
Related post: People With Kids at The Beach
This article was originally published on