You Can Now Wear A Bean Bag In The Form Of A Onesie And Yes, Your Ass Needs This
by Cassandra Stone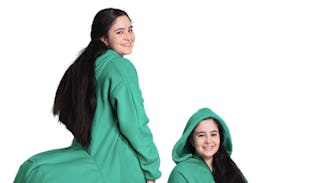 Image via Think Geek
You never have to worry about finding a seat somewhere ever again — it's built right in
If you've ever been waiting in a long line, or out and about running around and thought, "Ugh, I wish I could just plop down right here and take a seat for a minute," — well, now you're in luck. Because this onesie comes complete with its own seat for your tired behind to use anytime, anywhere.
Thanks to ThinkGeek, those of us who love to remain seated and be comfy while doing it can achieve both of those things no matter what we're up to. Because they've got a Bean Bag Onesie for sale. Yes, that's right, it's a onesie with its own built-in, fully attached seat.
Think of the possibilities for this onesie, even if it looks a little ridiculous. You're standing in a neverending line at Target, Walmart, or Costco — plop! Take a seat, wait it out comfortably. Can't find a seat on the train or the bus? Welp, now you've made one of you own and everyone else can take it or leave it.
Going to an outdoor concert where you know your legs will be tired from swaying to the music for 2 hours? Congrats, you can sit down without worrying the ground is too hard or cold. Or, if you want to watch The Voice or Real Housewives in peace but your family is hogging up the couch, you've got a comfy place of your own to enjoy right and center in front of the TV.
Though this onesie retails for $89.99, it's exceptionally appealing for all the reasons above and it also looks kind of ideal for pregnant women. As a woman just past the halfway mark in her second pregnancy, I know I am always on the lookout for a seat wherever I go, and that habit is only going to increase as I do. Not only do pregnant people not have to worry about what they look like in this (because maternity clothes are…not great, amiright?), but we can be endlessly comfortable and we'll forever be able to find a seat.
The Bean Bag Onesie is available in "Gumby Green" and is made of a cotton and polyester mix (and it's filled with polystyrene balls, natch). It's available in sizes small through 3XL and should be hand-washed and left to air dry.
Sometimes trying to find a seat anywhere is a pain in the ass — metaphorically and literally. This Bean Bag Onesie takes care of all of that in one garment. Treat yoself and grab one (or two) today!