Yes, Please: There's A 'Beauty And The Beast' Bar Coming To Disney
by Thea Glassman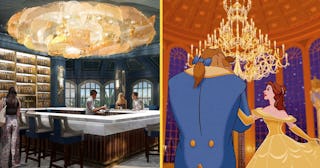 Disney Parks Blog and Walt Disney Pictures
Walt Disney World is opening up a Beauty and the Beast-themed bar and lounge
The happiest place on the earth just got a whole lot happier. Disney World is opening up a Beauty and the Beast-themed bar and lounge this fall, which will definitely make you want to be their guest (sorry not sorry). There will be four separate spaces and each one sounds more magical than the next.
The bar and lounge will be located in the Grand Floridian Hotel and the folks over at Disney promise that the new digs will "put our service to the test and share a tale as old as time."
The bar will feature a large gold chandelier styled after Belle's dress and the Beast's rose. Head to the library and you'll be treated to classical baroque designs, french furnishings, and "hints of the Beast's friends." There's also the Garden Room, inspired by the enchanted forest, and the Outdoor Room, which will "evoke the romance of Beast's garden terrace."
Here's a sneak peek of what to expect:
If you can't wait until the fall to get your Belle on, there's another Beauty and the Beast restaurant in Disney World to keep you fully occupied. It's called Be Our Guest – because, natch – and is located inside the Beast's castle. You can dine on grilled strip steak with garlic-herb butter, pan-seared salmon, and triple chocolate cupcakes. There's grey stuff on the menu as well, which I'm sure will be just delicious.
Also, the whole set up is really, really pretty:
https://www.instagram.com/p/BqtAm_NHolX/
https://www.instagram.com/p/BwXM1fTHZDf/
If you're looking for something a little more low-key but still want all that beastly magic, make your way to Gaston's Tavern. They've got warm cinnamon rolls, LeFou's Brew, and hopefully the song "Gaston" playing on an endless loop.
Again, with all the cuteness and deliciousness:
Here's to living our very best Disney lives, complete with all the yellow ball gowns, yummy grey stuff, and LeFou's Brew. Mrs. Potts and Co. would approve.
Watch Beauty and the Beast and all your other favorites on Disney+ for $6.99/month or $69.99/year. Sign up now for your free trial.
This article was originally published on