You Need This Adorable 'Beauty And The Beast' Dishware In Your Life
by Thea Glassman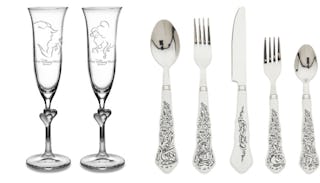 Image via Shop Disney
Your kitchen is about to get a Disney makeover with this Beauty and the Beast dishware line
Be our guest and prepare to feel all the ~feelings~ about Disney's new Beauty and the Beast dishware line. It'll transform your regular ol' family dinners into a magical feast, while everybody pretends they're living their best provincial French life. Listening to the entire movie soundtrack throughout the meal is not mandatory, but highly encouraged.
Let's start off with this very pretty, very delicately designed 20 piece flatware set. It features intricate drawings of Lumiere, Cogsworth, Mrs. Potts, and Chip – aka the true stars of the show.
Wine o'clock will be made all the more fun with this stemmed glass. Because, honestly, there's really nothing classier than getting a little bit drunk from a very cute Beauty and the Beast wine glass.
Actually, I stand corrected. These romantic, pretty champagne flutes featuring Belle, the Beast, and glass hearts is officially the one to beat. Obviously, you get to sip from the Belle glass.
Turn your entire dining room into a Disney wonderland with this Beauty and the Beast table runner. You'll basically feel like Mrs. Potts and co. are right there with you. Bonus? It's an elegant black and white sure to blend with most decor.
And, yup, you'll also need these matching placemats featuring a Lumiere quote ("…the dining room proudly presents"). Nothing will make reheated leftovers more festive than having an homage to Lumiere at your table — and a constant reminder that every meal has the potential to be purely magical.
Or, how about actually having Lumiere at your table? This serving plate features everyone's favorite French candlestick happily holding up the grub. Hopefully, he'll inspire you to eat the grey stuff. It's delicious…
Dessert should always, always be eaten off of this "Be Our Guest" plate. Don't worry, Featherduster is on cleanup duty so you can enjoy.
Have these cute items officially put you in the hardcore Disney spirit? Ready to leave it all behind for a cranky beast turned handsome prince (despite all of the plot's annoyingly problematic pitfalls)? Join the club.
Here's to a dining room filled with Beauty and the Beast magic. We could all use some extra Belle in our lives right about now — and always, TBH.
This article was originally published on