'Beauty And The Beast' Photos Are Finally Here, And They Don't Disappoint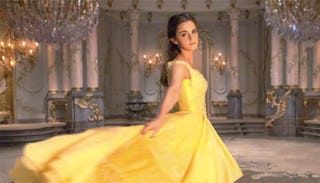 Photos from the new "Beauty and the Beast" were released this week, and they're everything we hoped for and more. From what we can gather, Disney's live-action remake of the Oscar award winning animation will be very magical. So now, be our guest, be our guest and take a gander at these enchanting shots.
How spectacular is Emma Watson as Belle? "I can't even think how many times I watched it as a child," the former Harry Potter star told Entertainment Weekly. "I knew all the words by heart. I knew all the songs by heart." The magazine released all the enchanting snapshots from the movie set on its Instagram page. Thankfully they didn't make us wait long to see the whole cast of characters.
We got to see Josh Gad, who plays Le Fou, and Luke Evans, who stars as Gaston, a top of some very professional horse actors. Gaston, of course, is known for his sword fighting. As the song says, "No one fights like Gaston – Douses lights like Gaston – In a wrestling match nobody bites like Gaston!" Check out the burly babe wielding his weapon.
Dressed up or dressed down, Watson's surely going to be a hit in the lead role. The actress told E.W. that she loved the original that was the third-highest-grossing film of 1991 and inspired a Broadway musical that ran for 13 years.
Watson works alongside Kevin Kline, who plays her father. "In Disney's animated version of the film, Belle is a big fan of reading while her father, Maurice, is an inventor," the magazine wrote online. "For the new live-action remake, that's changing in a BIG way." We kind of love that there will be some changes to the new version.
But we're also stoked to see the original cast reimagined. It wouldn't be the same without Cogsworth, Mrs. Potts, Lumière, and Plumette.
And, last but not least, the Beast. Look at those horns! You can't even tell Dan Stevens is behind all that makeup. We were only blessed with one pic of the main character, but it's probably better that way. Best not to see the whole movie before it hits theaters.
[free_ebook]
This article was originally published on