Crime Scene Tech Starts Program To Buy New Bed Sheets For Sexual Assault Survivors
by Sarah Bregel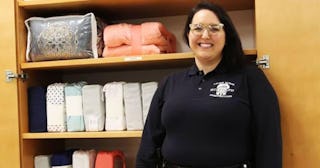 Kansas City Missouri Police Department/Facebook
A crime scene tech is now coordinating donations of bed sheets for survivors of sexual assault
In Kansas City, Missouri, one crime scene technician noticed a problem when collecting evidence after a sexual assault takes place. When the technicians arrive at a crime scene, they have to collect evidence and usually, that involves collecting a victim's sheets. But often, those sheets might be the only ones the victim has.
It's a problem that not a lot of people would know about or understand, but of course, working in the field, one technician did notice it and she wanted to take action to help survivors in some small way. The tech, whose name is Marisa, started a campaign last year, asking people to start donating new sheets for survivors of sexual assault.
Quickly, people wanted to help and the police station began receiving sheets in the mail. Some people dropped them off directly to the station, too. Then, the Kansas City Police Department shared about the program on their Facebook page and it really took off from there. People began sending tons of sheets directly to the police station in beautiful acts of kindness.
The police department's Facebook post read, "When our crime scene technicians collect evidence at the scene of a sexual assault, they often have to take bed sheets. One crime scene tech realized those sheets are sometimes the only ones the victim has. So she's started a program to donate new sheets to sexual assault victims." The post also has a link which has since expired which gave more information about the program. However, the police station started an Amazon store, making it even easier for those who wanted to help out.
It's a really beautiful idea. Especially because it's so easy to help out but it likely impacts survivors in a huge way. When we think about how awful it must be for survivors to go home after an assault to a bed with no sheets, or have to go out and buy new sheets, it's likely an incredibly traumatic experience on top of the trauma they've already suffered. This program helps take away from of that hardship and it doesn't cost much either.
The Facebook post has about 33k shares to date. People are clearly happy to help and you can show your support, too, by going to the Amazon store and sending a package of sheets or even a few sets for survivors in need. It's amazing the problems people like this amazing tech can help solve when we think about how a small act of kindness can help someone piece their world back together in a potentially huge way.
This article was originally published on