Beech-Nut Recalls Baby Rice Cereal Over Arsenic Levels
by Kristina Johnson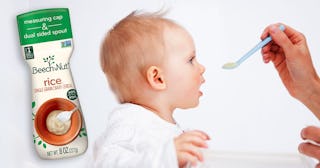 Beech-Nut and Wavebreakmedia/Getty
Beech-Nut will stop selling rice cereal after announcing new recall
Parents, check your cabinets. Beech-Nut is voluntarily recalling one lot of Beech-Nut Stage 1, Single Grain Rice Cereal due to high arsenic levels.
The company says a sample from the lot in question tested above the arsenic levels allowed by the FDA. Arsenic is a naturally occurring compound that is often found in food, water, and soil — but the FDA regulates its levels in baby food because exposure to elevated levels of it can be dangerous to babies and kids, including potential neuro-developmental defects.
If you've got a package of Beech-Nut rice cereal on hand, you'll want to check the UPC code on the bottom of the canister. Any packages labeled with code 52200034705 with an expiration date of May 1, 2022, as well as product codes beginning with 103470 or 093470 are part of the recall. The rice cereal was sold nationally in stores and online, but parents are now being told to throw it out if they've got it.
The company says it hasn't received any reports of illness related to the recalled lot, and no other lots of cereal were affected. However, the company also announced its plans to stop selling rice cereal altogether, blaming the decision on concerns over whether it would be able to "consistently obtain rice flour well-below the FDA guidance level and Beech-Nut specifications for naturally occurring inorganic arsenic."
The FDA first began studying arsenic limits in baby rice cereal back in 2016, after finding that almost half of the products it sampled had too much arsenic. It finalized its guidelines in August of 2020. Advocates continue to push for even higher standards for baby food that include other potential environmental toxins like cadmium, lead, and mercury. The American Academy of Pediatrics has suggestions listed here on how to minimize your child's exposure.
If you're tossing a canister of rice cereal due to the recall, you can contact Beech-nut for a replacement or a refund by going to their website at www.beechnut.com/ricecereal, or calling 1-866-272-9417.