Ben & Jerry's Just Released An Anti-Trump Ice Cream Flavor
by Jerriann Sullivan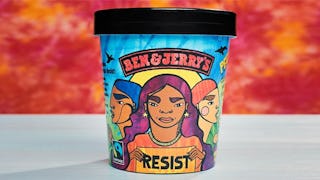 Image via Ben & Jerry's
Pecan Resist is the new anti-Trump ice cream
Ben & Jerry's just released a new anti-Trump ice cream flavor and we can't wait to try it. Not only does the new flavor, named Pecan Resist, sound delicious but sales from it will go to fighting Donald Trump's hateful ideology.
"Alongside all those nutty chunks, this pint packs a powerful message under its lid: together, we can build a more just and equitable tomorrow," the company said in a statement.
"We can peacefully resist the Trump administration's regressive and discriminatory policies and build a future that values inclusivity, equality, and justice for people of color, women, the LGBTQ community, refugees, and immigrants."
Hell to the yes.
Pecan (for '"we can") Resist is just like the United States – a delightful melting pot of different but equally fabulous ingredients. The base is chocolate ice cream and mixed in are white and dark fudge chunks, pecans, walnuts, and fudge-covered almonds. BRB, ordering a whole bunch of it online.
The best part of the new flavor, though, is the company's focus on lifting up activists and organizations that spend countless hours fighting against the hateful policies Trump has put into place since taking office. The ice cream company will be donating $25,000 to each of the following organizations: Color of Change, Honor the Earth, Neta, and Women's March.
They've also launched a campaign online to connect customers with the nonprofits so people can learn more about how they join the resistance. "Color of Change designs campaigns powerful enough to end practices that unfairly hold Black people back, and champions solutions that move everyone forward," Ben & Jerry's said of the organization. Honor the Earth, "works on issues of climate change, renewable energy, and environmental justice with Indigenous communities." The company described Neta as "one of the fastest-growing independent media platforms led by people of color along the Texas-Mexico border." The Women's March "is committed to harnessing the political power of diverse women and their communities to create transformative social change."
During the company's 40-year history, they've shown support for the Black Lives Matter movement and Rock The Vote. They also renamed their Chocolate Chip Cookie Dough ice cream to I Dough, I Dough to honor marriage equality in 2015. Of why they released their newest flavor, the company said: "We cannot be silent in the face of the President's policies that attack and attempt to roll back decades of progress on racial and gender equity, climate change, LGBTQ rights, and refugee and immigrant rights – all issues that have been at the core of our social mission for 40 years."