Drop The Halo Top: Ben & Jerry's Finally Made A Low-Cal Ice Cream
by Thea Glassman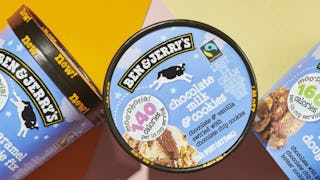 Image via Ben & Jerry's
Ben & Jerry's is going low-calorie
You can now officially dig deep into a Ben & Jerry's pint without feeling those instant, nagging pangs of regret. The ice cream company released a line of low-calorie flavors called Moo-Phoria, and it literally sounds like every health conscious person's ice cream dream. It's also equally dreamy for those of us who aren't particularly into healthy eating, but can't be bothered to visit the gym after one of our Netflix/ice cream binge nights. Win-win.
The new ice cream line — which launched today — offers up three different flavors: Chocolate Milk & Cookies, Caramel Cookie Fix, and P.B. Dough. Each pint is made with organic dairy, and only has between 140-160 calories per serving (which is about half the amount of average calories in a standard pint's serving). Also, there aren't any sugar alcohols or substitutes, which means no weird aftertaste. Oh yeah, and they're also produced from non-GMO sourced and Fairtrade certified ingredients. Ethical eating at its finest.
Okay, now enough with the stats. Let's get down to what's actually in the pints.
First up, we have the Caramel Cookie Fix, which has shortbread cookies and salted caramel swirls. Nom nom nom. This one is 150 calories and, according to Ben & Jerry's, "plenty of sweet, not too much salty." Yes please. Bring on all the sweetness.
There's also the Chocolate Milk & Cookies, which harkens back to those childhood days when you would dunk your after-dinner cookie into a big cold glass of milk, while avoiding doing your homework. Nostalgia + low-cal ice cream = dream. This one is 140 calories, and packed with chocolate, vanilla, and chocolate chip cookies.
Last but not least, we've go the P.B. Dough. This one is 160 calories, and a mix of chocolate ice cream and ooey-gooey gobs of chocolate chip peanut butter. Not trying to pick favorites here, but this is the one that I am most excited to crawl into bed with.
Apologies for all the mid-afternoon food porn salivating that's happening right now.
Now, go out there and get your low-cal ice cream binge on. It might not taste quite as richly good as the usual Ben & Jerry's pint, but at least you won't feel compelled to eat a salad or something afterwards.