You Have To See These Incredible Tattoos An Artist Is Giving Kids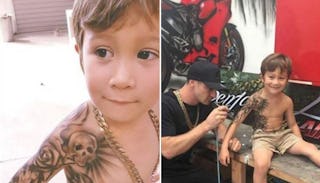 Artist pledges to give 'tattoos' to kids who want them in a local children's hospital after his FB post goes viral
A New Zealand artist is hoping that his airbrushed tattoos will bring smiles to the faces of sick kids. Inspired by the death of his stepson, Benjamin Lloyd wants to give the kids at the Auckland's Starship Children's Hospital the confidence he knows temporary tattoos can provide.
Lloyd has been creating incredible airbrushed designs for 10 years but recently expanded his projects to include adults and kids. "The kids are so amazed. As soon as they get the tattoo it boosts their confidence," he told The New Zealand Herald. The children's' reactions made him think about sick kids at a nearby hospital who might want something unique and different made just for them. "They've got nothing to do, they're stuck in their room all day, and I would just love to go and put a smile on their faces," he told ABC. Lloyd has a special place in his heart for kids battling illness after his stepson passed away. To jump start the idea he posted this on Facebook promising that if he received 50 likes he'd paint each kid at the children's hospital.
The artist went to bed without thinking too much about it and woke up to a flood of likes, comments, and shares on the social media site. "I went to sleep and it had gone crazy overnight," he told Mashable. The original post has been shared more than 240,000 times. Lloyd said it's reached 20 million people as more and more users share his story.
Since then he's already been in contact with hospital officials, who loved the idea. The artist is creating various stencils with popular themes like Spider-man, so the kids have lots of options when he arrives. And he's already heard from a few parents who are excited about the upcoming visit. "My son's at Starship. We are just in between cycles — he has cancer … will be awesome for him to get this done," Angela Piper wrote on Facebook.
Each painting takes about nine minutes to complete. Lloyd says it's "a real challenge as you need to be quite fast." I can't blame the kids for being excited and unable to sit still. I remember barely keeping it together just waiting for my temporary Lisa Frank tatts to show up as a kid. Lloyd's pieces are true works of art. Plus he makes them with non-toxic Indian ink, which washes off in the shower. The only problem, he says, is that once kids have their airbrushed tattoo they'd rather skip their showers than see the ink disappear.
This article was originally published on