27 Of The Best Cooking Tips And Recipe Game-Changers We've Ever Heard
by Katie Cloyd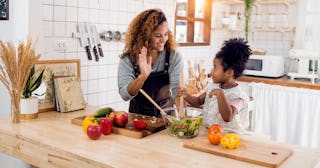 Thana Prasongsin/Getty
If there's one thing I love about the internet, it's the way people generously share cooking tips, time-saving tricks, and life hacks. The online world in all its imperfection is actually a fantastic place to figure out more efficient or interesting ways to do things. I've learned everything from how to wrap a gift beautifully to how to put a trash bag in the can properly to a quick way to get a pointy winged liner every time.
But my favorite tips are the ones that make me more awesome in the kitchen. Whether it's secret ingredients, amazing recipes or cooking tips, I know I can throw out a question on social media and get an answer that will take my cooking up a notch.
We asked our readers and friends to share their best cooking tip, secret ingredient or recipe game-changer with us, and you did not disappoint! Here's what you had to say:
You had some great suggestions for getting veggies in kids:
"My kids won't eat many vegetables, despite my very best efforts. We work on taking bites and trying new things, but sometimes I just have to trick them. I use a manual food processor to chop raw yellow squash into tiny, tiny bits. I sauté them for a minute in a non-stick pan before I cook my kids scrambled eggs. They eat squash a few times a week, and they have no idea." –Katie C.
"I blend an avocado until it's super smooth then add it to my boxed brownies in place of the oil. They still come out delicious, and it's a good way to use any leftover bits of avocado that have browned a little." –Pam H.
"My friend Emily makes 'magic spinach.' I've never met a kid who wouldn't eat it. It's so simple. She just boils frozen spinach, drains it really well, then adds a little butter, salt and an egg. Sometimes, parmesan cheese if she's got some on hand. The egg holds it together, and it tastes yummy!" –Jenn P.
"Canned green beans aren't exactly known for their depth of flavor, but you can make them super tasty! Drain and rinse them well, then add them to a saucepan with a cup of water, a capful of oil and a bouillon cube of your choice. Boil until the cube melts and the beans are hot. Yum!"—Emily D.
"I puree all kinds of veggies and throw them in my spaghetti. My kids have no clue. Zucchini, carrots and red bell peppers are the easiest ones to hide, but I've gotten away with spinach, butternut squash and even beets!" –Genny F.
Unexpected ingredients can give your recipe that little something it was missing:
"If your chicken soup is lacking joie de vivre, try adding a few shakes of soy sauce. It will add just enough umami to make the flavor of the entire soup more interesting. Another option is lemon juice. The brightness might be just what the soup doctor ordered!" –Jeanne S.
"Speaking of soy sauce, it's also a great addition to gravy. You can spruce up a store-bought gravy with a little bit of meat drippings and a tablespoon of soy sauce. Nobody will ever guess you didn't make it yourself!" –Katie C.
"My brother makes the best meatloaf using crushed up Stove Top stuffing instead of breadcrumbs!"–Rita T
"My fiancé isn't a big red meat eater, so I use mostly turkey. He thought turkey meatloaf and turkey meatballs were always dry until he tried mine. The secret? A jar of carrot baby food. No lie! It adds a little bit of sweetness and moisture, and keeps the meatloaf tender and juicy!" –Jean S.
"Want a real secret ingredient? Throw a half a bar of super dark chocolate in your chili. I've won three contests with my recipe." — Gilliana G.
"My wife's stepdad puts crushed Ritz crackers and a ranch packet in his burgers. I finally got him to cough up his secret this summer. I was never a big burger eater until I had these. They're so good!"– Scott C.
"I marinate chicken thighs in a mixture of half Allegro's seasoning and half Italian dressing before I grill them. They're amazing as-is, but I also do it even if I'm going to baste them with barbecue or teriyaki. Nobody has ever figured out why my chicken is the best grilled chicken around, but they all agree it is!"–Doug L.
"I ran out of butter and tried that 'mayo on the outside of grilled cheese' thing. Shockingly, that hack is legit. It's even better than butter. I've never gone back." –Mark G.
https://www.tiktok.com/@cooklikelauren/video/6966307727136148742
"A little coffee in your chocolate cake batter is amazing. I don't like coffee, but the way it elevates the chocolate flavor is next level." –Rita T.
"A few years back, I read that IHOP puts pancake batter in their omelets to make them fluffy. Now I never make an omelet without adding a bit! You just prepare the pancake batter as usual, prepare the scrambled eggs for the omelet as usual, then add a couple tablespoons of the batter to the eggs before cooking. It comes out super fluffy and holds together really well for flipping!" –Sienna C.
"I add fresh thyme to my New England clam chowder. I tie it in a bunch and pull it out before serving. It just adds a flavor a little more complex than the milk/butter/potato thing it usually has going on. So perfect on a cold afternoon!" -Rachel N.
"I used to eat lunch a couple times a week at this little café in my building, and they had the best chicken salad. When the owner retired, I convinced her to give me the recipe. It was so simple, I almost fell over. Chicken, grapes, apples, walnuts, mayo, black pepper…and her secret ingredient? Poultry seasoning! I don't know how I never figured that out, but now I never make it any other way!" -Andrew M.
"The first time I cooked for my husband, I was determined to do something that looked halfway like a real recipe. (I'm not exactly Wolfgang Puck or Ina Garten in the kitchen.) Anyway, I ended up doing a 'semi-homemade' version of Shepherd's Pie. Everything was basically pre-made, from the mashed potatoes to the canned veggies to the gravy from a jar. I just added stoneground mustard and Worcestershire sauce to the gravy. Somehow those two little secret ingredients made it taste like I'd slaved away for hours. I didn't let him believe that for long, but I guess it worked anyway, because he put a ring on it, and I've had to make my 'cheater's version' of Shepherd's Pie for him a hundred times since."–Riley K.
"Tuna salad can be a mushy mess, or you can do what I do, and put some chopped radish in it. The crunch and spice of the raw veggie breaks up the soft texture. It's more interesting than celery, and crunchier than pickle." –Anna Q.
"My partner's office mates always request my crustless quiche for office parties. If they only knew how simple it is! Eggs, salt, pepper, cheese, sautéed veggies and half a block of melted cream cheese. Whip it up, throw it in a greased pie pan. Bam. It's that cream cheese that does it. So indulgent and silky!"–Clara G.
"If you like chicken satay with peanut sauce, you're going to LOVE this. Replace the peanuts in your sauce with cashews. I can't give you my recipe because I was sworn to secrecy, but I will say it contains a lot of cashews, a lot of garlic, and a lot of delicious." –Lisa B.
You came through with some cooking tips and food prep suggestions, too.
"I use my stand mixer to shred chicken. Throw it in while it's still hot, turn that paddle on slow for a minute or two. So much easier than two forks!" –Amanda P.
"I saw this one on TikTok, but I can't remember the name of the creator! I wish I could! Mix even amounts of flour, Crisco and vegetable oil and blend until smooth. Use that to grease your cake pans. Once they cool, they will slide right out!" –Kylie Z.
"I saw this one on a lifehack list years ago, and I've never forgotten it. Put leftover herbs in an ice tray and cover them in olive oil. Freeze and transfer to a freezer bag and label it. Next time you need that herb, just grab a cube, and you're ready to go." –Joanie N.
"If you don't want it to crack, let your cheesecake cool in the oven. When it's done, turn the oven off, open the door slightly and let it cool in there. Also, if you're going to be making cheesecake, you absolutely must buy one of those silicone springform pan covers. I mean, talk about a game changer. Has anything ever been easier?" –Madison W.
"My sweet nonnina taught me that any recipe that includes tomato paste should tell you to fry it first. Even if it doesn't, fry it anyway. When you put the paste in a pan with a tiny drop of olive oil and fry until it's a deep, rich maroon instead of bright red, you transform the flavor into something so much more delightful and complex than it is right out of the can or tube. That's a cooking tip I've never forgotten." –Alessia D.
"Put your cooled hard-boiled eggs in a storage container with a lid and shake them hard. Once they're all full of cracks, the shells will slip right off. You can use this method for garlic cloves in the skin, too!"—Gia G.
Some of these cooking tips and recipe suggestions blew my mind. I can't wait to try the stuffing mix meatloaf. I'm ready to take these tips to the kitchen and get cooking!
This article was originally published on