These Are The Best Fake Eyelashes Ever, And They Only Cost $4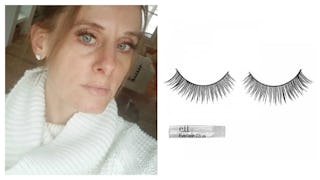 Katie Bingham Smith / Amazon.com
I've always wanted to play around with fake lashes after having them done for my wedding, but I always thought I was too clumsy and wouldn't be able to get them on right. Women pay a ton of money for extensions which look great, but that's out of my price range and I'm not that committed.
So, I've been testing some affordable fake lashes, and here are the results.
A few tips before you get started: Apply a light coat of mascara beforehand — this will help them go on better.
Then, set them over your lashes and trim them to length — this step makes all the difference. It's better to have them cut a bit short than to have them too long and touching your damn eyebrow.
Next, put glue on the fake lashes, and your eyelids just above your lash line (making sure you aren't putting it on your lashes) and apply extra to the edges and middle.
Allow the glue to dry for a few seconds before you place them on.
Once they are on your lash line, gently press down with your fingers — I found them much easier to work with when I used my hands instead of the tweezers some kits come with.
Okay, let's have some fun.
These lashes were under $10, and after I trimmed them, they went on like a dream. The lashes come with a tiny tube of glue and the applicator was so amazing. It was shaped perfectly and went on the lashes and eyelids without a mess. It took me one try and they were on. Magic.
I didn't even apply any mascara or other makeup after applying them because I thought it might be too much — the lashes stand alone. You can feel them, but they weren't overly annoying or irritating. I'm actually a little obsessed with these.
These 3D handmade mink lashes were a bit more at $12, and too dramatic for me. I actually feel like I look scary. In fact, my kids confirmed I did not look normal.
Even for an evening look they were too heavy, thick and dark, and had a noticeable dark line. I won't be wearing these again, but your mileage may vary.
When I saw the Elf Natural Eye Lashes, I didn't think they would enhance my eyes at all — they looked too skimpy. But these are by far my favorite, and not just because they were under $4, though that is a nice bonus.
They look like natural, long lashes without the fake, overly dramatic factor. No mascara is needed and there wasn't a heavy line like the other brands I've tried. I'm pretty much going to hoard these from now on.
These Ardell Magnetic lashes were were the most expensive at $13, and though I was the most excited about these, they were (unfortunately) my least favorite.
You apply them by putting a strip on your upper lashes, over your lash line (just like you do with the glue on lashes), then you place another one underneath the upper lash line and the tiny magnets are supposed to stick together and clamp down on your natural lashes, which holds the fake lashes in place.
They took forever to get on, and don't set far back enough on the lashes, causing them to stick out on both ends. You can't tell in the picture, but they are noticeably fake and look like they are barely holding on. They felt so awkward that I gave up after a half hour. I was disappointed since I figured they would be easier to apply than the ones you glue on, but I was wrong. There are more expensive versions available which have gotten good reviews but for $70, but I'll stick with my new $4 glue-ons.
If you've never tried these and have always wanted to, I say grab a cheap pair at Target and go for it. It's tempting to go for the super full sets, but if you want a long, natural look, pick the styles that don't look so dark and thick.
Editors may receive samples and/or a share from purchases made via links on this page. All opinions are our own.