10 Best Gifts For You And Your Sweary Friends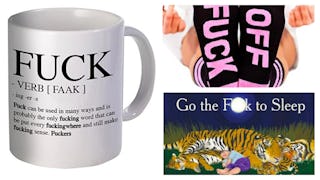 via Amazon
It's time to pass out some fucks. Literally. By that I mean give some sweary accessories or books to your favorite bitches and buy a little fucking something for yourself. Besides, it's almost the season to be fucking merry, and what better time to spread the fucking cheer?
RELATED: Jennifer Garner Reading 'Go The F@#! To Sleep' Is Your New Favorite Thing
We all have that friend, you know, the super-sweary one who gives no fucks and is unapologetically herself? And we all know someone who gives too many fucks and perhaps needs to check their fuck distribution and master the art of not giving so many of her precious fucks away.
Maybe you want to send a a funny gift to your edgy aunt who can swear with the best of them. Sending an anonymous pair of "Fuck You" socks to your boss might be just what the doctor ordered. Whatever your reason for wanting to give a few fucks away, or get some for yourself, Scary Mommy has done the work for you and put together a list of the best fucking gifts ever.
You're fucking welcome.
The best book I've read this year is Mark Manson's The Subtle Art of Not Giving a Fuck. For $14.99, you will learn what to save your fucks for — that's for damn sure.
Go the Fuck to Sleep, written by Adam Mansbach, is a bestseller for a reason. For $13.34, you can (hopefully) send your sweet cherubs off to dreamland and get a great gift for the mom in your life who can't get her littles to calm the fuck down at bedtime.
A mug that perfectly explains why using the word fuck is so exhilarating while holding 11 ounces of "okay, now I can function" juice. For $10.99, all your besties need one.
If you need a nice housewarming gift for the new neighbor, or know a super-uptight bitch who hates water stains on her table (me!), these classy coasters are perf. For $34, you can save every surface in her home. You are awesome.
We all like warm feet and the ability to tell someone to fuck off just by raising heels, and the $6.99 price tag is the icing on the cake. These socks are unisex and come in a variety of colors.
A $15.99 doormat that let's everyone know what you're all about straight away and is washable? Yes, please. I'll take one for my front and my backdoor, please.
These black stainless steel middle finger studs make a statement without saying a word. For $5.99, you can give someone the finger, twice.
And if a necklace is your favorite way to showcase your middle digit, look at these handmade pieces of art. For $13.80, I'll buy one in every color.
If you have a bucket list, great. But I also encourage you to have a fuck it list, too. This blank journal sells for $8.99 and is the perfect reminder you need to say" fuck it" sometimes.
The age-old question, "What the fuck should I make for dinner?" is now answered in this book written by Zach Golden. For $9.67, you get 50 fucking recipes and lots of inspiration. The only cookbook I'll ever use.
Treat your friends and family, but also don't be afraid to say "fuck it" and get yourself something nice too.
This post contains affiliate links, which means we receive a small portion of the sale if you make a purchase using these links.
This article was originally published on