17 Of The Best Grief Podcasts To Help You Through This Difficult Time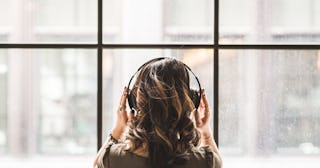 Burst/Pexels
When you're mourning the loss of someone, there is no one-size-fits-all path to feeling better. Grief is a very strange concept, because it's something that we all think we're familiar with until we face it ourselves, and realize it's far more complicated than it sounds. One day you could be functioning normally, and the next you may not be able to get out of bed. Maybe your coping mechanism is staying busy, while someone else's might be taking the time and space to reflect on the person's life. And while seeing a grief counselor can be very helpful, it's not an option for everyone.
Going through a loss is a hard and complicated time. Different things work for different people and it's important to find what makes you feel best. For some people, it's nice to talk it out or hear from someone who shares similar experiences. So if you want to hear from people who know what you're going through, here are some of the best grief and bereavement podcasts to help get you through this difficult time.
Here's some extra support if you're dealing with loss. Check out our other pages on grief, which include death anniversary quotes, scattering ashes ideas, condolence messages, and more!
1. Where's the Grief?
Can there be humor in grief? It may not be obvious, but it can be a useful way to cope for many people, including comedian Jordan Ferber, who lost his 21-year-old brother. And that's the idea behind his Where's the Grief? podcast. In each episode, Ferber discussing mourning and even the weirdest parts of grief with other comedians and performers who've been through it too.
2. What's Your Grief
Hosted by mental health professionals, Eleanor Haley and Litsa Williams, the What's Your Grief podcast demystifies the complicated grieving process. Covering topics ranging from grief theory, to expectations, to coping strategies, the podcast can be useful for the bereaved as well as those who work with or love them.
3. Terrible, Thanks for Asking
Aside from having the best and most relatable name, author Nora McInerny's podcast Terrible, Thanks for Asking also provides valuable information on how to actually process feelings of grief. That way, when someone asks how you're doing, you don't have to just say "I'm fine."
4. The Art of Dying Well
Each episode of The Art of Dying Well podcast focuses on a specific topic within the world of grief and bereavement. Topics range from losing someone during the COVID-19 pandemic, to deathbed etiquette (yes, that's a thing), and talking to children about the death of a pet.
5. Help Me Be Me
Though the Help Me Be Me podcast isn't focused exclusively on grief resulting from someone's death, it does touch upon many of the other situations on our lives that can cause us to feel grief. It's hosted by Sarah May, a self-described "author/podcaster/all-around happy person," and she bills it as "self-help for people who hate self-help."
6. The Mindfulness & Grief Institute Podcast
Heather Stang, MA, C-IAYT, is a thanatologist, mindfulness speaker, author of Mindfulness & Grief: With Guided Meditations To Calm Your Mind & Restore Your Spirit, and the host of the Mindfulness & Grief Podcast. In each episode, she tackles everything from grieving a pet, to dealing with the guilt and regret that so frequently accompany grief in our lives.
7. Help 2 Make Sense
The Help 2 Make Sense podcast is geared towards children and young adults who have experienced loss. Episodes include going back to school while grieving, and the death of a sibling.
8. The Adventures of Memento Mori
Full disclosure: this isn't a traditional grief podcast. The Adventures of Memento Mori is a podcast exploring the science, mysticism, culture and mystery of death. This is definitely not for everyone, but for those who find learning about death culture comforting (knowing people have experienced this feeling forever), it could be a nice change of pace.
9. Grief Out Loud
With a mix of personal stories, tips for supporting children, teens, and yourself, and interviews with bereavement professionals, the Grief Out Loud podcast is a great resource for the bereaved. It is hosted by Jana DeCristofaro and produced by The Dougy Center for Grieving Children & Families in Portland, Oregon.
10. Death Is Hilarious
Another one that might not be for everyone, the Death Is Hilarious podcast uses stories, friendship, and lots of really dark jokes to cope with grief, loss, and trauma. The host, Tawny Platis, lost her husband in November 2019 and shares her journey with guests and listeners.
11. Sisters in Loss Podcast: Miscarriage, Pregnancy Loss, & Infertility Stories
Though society may not fully recognize it, miscarriage, pregnancy loss, and infertility can all result in grief. The Sisters in Loss Podcast shares the stories of Black women who have been through these types of losses.
12. Healing Pet Loss Podcast
They may not be human, but that doesn't mean we don't mourn the loss of our beloved pets. The Healing Pet Loss Podcast shares practical steps for coping with the loss of a beloved pet, but it also veers into spiritual territory, which may not be everyone's cup of tea. Still, the practical tips can be very useful.
13. Death, Sex, And Money
Award-winning host Anna Sale has the hard conversations about love and loss and asks the tough questions we often want to eschew in her podcast Death, Sex, And Money. It's never been more important than during a global pandemic when so many are mourning loved ones.
14. The Grief Gang
No matter what the age, managing death is not easy. For Amber Jeffrey, who lost her mother at 19 years old, she's created the Grief Gang. On this podcast, she speaks of her experience and all that she's learned from her mother's passing. Her goal is to normalize the conversation and the relationship people have with death. Grief can take hold of your life but Jeffrey's mission is to encourage others to treat death as a part of you, rather than a defining aspect.
15. Griefcast
Grief is anything but funny, but each person has their own way of managing death. And for some, it's through humor. Griefcast is unconventional, but comedy is a great way to explore and manage your feelings. In such dark times, laughing can help you heal.
16. Good Grief With Cheryl Jones
Cheryle Jones not only talks about death, but she delves into the feeling and situations that happen around the grieving process as well. She talks about the people she's met on her journey, her healing, and the strength she's discovered along the way.
17. Terrible, Thanks For Asking
When you're going through death it's easy to tell everyone that you're doing fine, even you're not. This podcast by Nora McInerny captures those feelings and creates a space that encourages honesty and comfort. Sometimes being vulnerable about your feelings is hard when you don't feel your best. This podcast is a perfect blend of sad, uncomfortable, funny, and awkward.
What are the 7 stages of grief?
If you've ever lost someone it's normal to experience emotions like sadness or anger. Dealing with death is a strange experience, and sometimes our mind goes through stages in order to deal with it.
Denial. Grief can be so devastating and overpowering that we find ourselves not believing it happened. It takes our mind a while to wrap our heads around the fact that someone has passed and a way of coping with that is by denying it. Eventually, the person comes to terms with the reality of events.
Anger. This is considered a masking effect. This means that it's used to hide someone's true emotions like the pain or hurt they feel. That anger can either be directed toward the deceased, the doctors, or even strangers.
Bargaining. During this process, the person focuses on what could have happened had X happened. This is when they go back and forth as to what could have been had certain events took place.
Depression. This is a deep blatant sadness. It's when the sorrow for the deceased engulfs them.
Acceptance. This is when the person comes to understand and recognize the reality of what has happened and what that means for their life.
This article was originally published on