The Best Pregnancy Announcement Using the 'Fresh Prince' Theme
by Hollee Actman Becker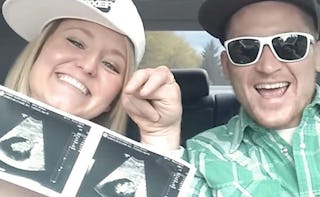 Sample lyric: "I woke up in the morning about 7 or 8, and I thought to myself, 'Oh man, I'm late!'" Pretty amazing stuff. And I'm giving them extra credit for the dog just chilling' out, maxin' and relaxing all cool in the backseat. The Meeks uploaded their masterpiece to share with distant family and friends on Easter Sunday, and it wasn't long before this thing—which the couple shot in just five takes—went viral. To date, it's got close to 3 million views and counting.
"It was completely unexpected," Melissa told KPTV. "Like, that was the last thing we thought would happen, that it would blow up." Maybe that's because the pregnancy announcement is not the only milestone chronicled by the couple on YouTube. Melissa first revealed to Jesse that they were expecting by engraving the news on a dog tag, attaching it to their Boxer's collar, and then filming her (shirtless) husband's reaction while he read it. They then repeated the same scenario with their parents.
No surprise, then, that the Meeks are planning to follow up their surprise smash hit with—what else?—a sequel, which they plan to start working on once they find out the baby's gender. So which TV theme song do you think they'll use? That Girl? Boy Meets World? All in the Family? I'm betting it's Full House, but I guess we'll just have to wait and see how this thing plays out. In the meantime, here's hoping Jimmy Fallon—who also famously adopted the Fresh Prince intro for his first West Coast cold open—invites the duo onto his show for an epic theme song sing-off. Sorry, Jimmy, but my money's on the Meeks.
This article was originally published on