100+ Self-Care Ideas For Inspo When You're Ready To Put Yourself First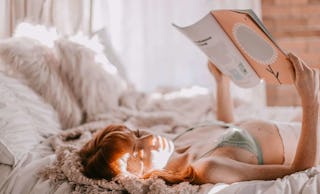 Pexels
Did you forget how to put yourself first? It happens. Just don't let another day go by before you change that around. Remember: You won't be able to effectively care for others (or even your own responsibilities) if you don't care for you. That is more important than ever as the world hunkers in self-quarantine due to the coronavirus pandemic. It's an incredibly stressful time so taking care of your mental health and wellbeing is key. If you're not sure where to even begin, we've compiled a list of 100 self care ideas so you can hit the ground running.
Give the world the best of you, not what's left of you.
Repeat: It's okay to release feelings of guilt for putting yourself first.
Let go of perfectionism.
Use thoughtful journal prompts to get to know yourself better.
Stop being proud of having a high tolerance for discomfort.
Burn sage outside and take a few deep breaths.
Reassess your priorities.
Meditate.
Treat yourself as you wish to be treated for a day.
Lay in the grass or sit under a tree and stay there until you feel whole.
Exercise.
Think of the first thing that comes to mind when you hear the word, "happy." Go do that thing.
Carve some time out for creativity.
Work out at the gym and sit in the sauna afterwards.
Express your emotions.
Spend time on your nails. Clean, shape, nourish, polish, etc!
Make cleaner with essential oil and freshen up your living space.
Go sit by a river and take in your surroundings.
Plant something. Water plants. Talk to plants.
Remove accounts or people that turn you off from your social media.
Watch something funny.
Cook or bake something you can share with others.
Face your feelings and determine a plan of action if your emotional health requires one.
Master Amy Cuddy's power pose.
Book an entire day as busy on your calendar, take a day trip by yourself and tell no one.
Stop letting people touch you if it bothers you.
Have an uninterrupted cup of tea.
Send compliments to the people you text with most often.
Physically remove yourself from situations where you are not valued.
Don't fall asleep with worry in your mind or tightness in your physical body. You don't need to have the answers to let go and slip into sleep feeling centered and at ease.
Practice mindful eating.
RELATED: 100+ Self-Care Quotes To Soothe Your Mind, Body, And Soul
Watch some TED talks related to what you're interested in or going through.
Look around your living space and throw away the things that you no longer want and can't give away.
Mix or buy a new fragrance.
Give quality time to your pet. It will mean the world to them and give you all the feels.
Dedicate time to remembering, honoring, and channeling the strength of your ancestors.
Ditch toxic relationships.
Make yourself some popcorn and turn on a movie you've been wanting to see.
Remind yourself of simple things you used to be proud to remember effortlessly, like the rules of chess or common phrases in another language.
Get rid of clutter in your living space.
Exfoliate all of the places on your body that need to be exfoliated.
Organize areas in your living space that feel chaotic.
Share stories with a stranger.
Schedule lunch with a friend who always lifts your spirits.
Get your hands dirty. Whether gardening, sculpting, painting, or even cleaning.
Face reality. Make changes.
Take some time to look backwards and honor your past, instead of dismissing it. Even if it's painful.
Draw a hot bath and drop in a few essential oils, baking soda, and salts.
Prepare the night before for the day ahead.
Take on a daily fitness challenge, like attempting a new yoga pose each day.
Host a spontaneous night with friends. You'll be surprised how many will show up for last-minute plans.
Cuddle with your S.O., your pet, kid, or your weighted blanket.
Go to the beach and sit on a blanket, even if it's chilly.
Send an email to someone you really admire, like an author or former professor. Even if you think they won't respond.
Drop into the support group you've been curious about.
Do something indulgent that you've never done before if finances allow.
Go out dancing. Go alone if you must!
Clean your car.
Look ahead at your schedule and cancel on anything you're just not up for.
Be brave enough to make the changes in your life you need to feel happy.
Go watch live music.
Pick out your outfits for the rest of the week.
Envision yourself as a child. Imagine your adult self showering that child with unconditional love.
Mash up your own ingredients and give yourself a facial.
Take a class that interests you.
Check in with your finances and see where you can cut costs (delete that app you paid for but don't use).
Believe you're worthy.
Light some incense.
Congratulate yourself on all the things you've accomplished.
Get a massage.
Join a fitness class at your gym and stick to your schedule.
Give yourself permission to tell people "no" or "nevermind" if you find yourself in a situation that puts out your fire.
Drink more water.
Take a deep breath and say what you've been wanting to say.
Meet new people.
Learn about reflexology and use it on yourself.
Practice gratitude.
Make your underwear drawer look like a lingerie shop display.
Say "I love you" when you look in the mirror. Say it daily until you believe it.
Declutter your closet.
Start a new health ritual.
Assess the products you use on a daily basis and make any swaps you'd feel better about.
Get well-versed in hygge and implement during cuffing season.
Go get a wax or a V steam if that's your thing.
Take a drive in the middle of nowhere on a dark, starry night.
Book a Reiki appointment.
Go for a walk and read a book under a tree.
Send emails to the family members who haven't heard from you in a while.
Accept and receive beauty.
Try drinking one cup of green tea each day.
Say "no" or "goodbye" to the things that don't make you happy.
Make that call for the appointment that relates to your mental health.
Go somewhere you've been curious about and set an intention to take photos while you're there.
Grab the friend you have that deep connection with and see if they're free for a weekend trip.
Schedule one-on-one quality time with the people who matter most in your life.
Take on a new hobby and don't feel bad for pursuing it, even if it feels mindless.
Clean your bathroom, light a candle, turn the lights down low, and take a hot bath (or shower). When you're done, use the most luxe lotion you own and wrap yourself in a cozy robe. Then go take a nap.
Make an effort to bring new, like-minded friends into your life based on the person you've grown into.
Have a guilt-free glass of wine.
Try an adult coloring book. It's not for everybody.
This article was originally published on