The Scary Mommy Shop Mother's Day Gift Guide: Our Best Selling Gifts For Every Mom
by Team Scary Mommy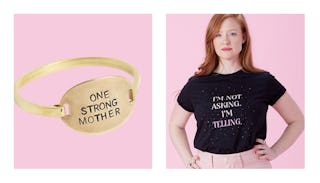 We're here to help you win Mother's Day this year
Every Mother's Day we rack our brains to come up with the perfect gifts. We all know moms are the ones that keep the home humming, the deadlines managed, and the world spinning. That's why gift giving for a mom — whether it's your own or someone else's — requires a lot of actual thought and consideration.
We're here to take the pressure off. Shop our collection of best-selling gifts for the women who made you who you are and win Mother's Day this year. Don't worry, you can take all the credit.
This t-shirt is the Mother's Day gift that keeps on giving. With her favorite "momism" emblazoned across her torso, who would possibly argue with her?
Know a mom who's ready to roll? Facial rolling is a popular facial massage technique that promotes a healthy, glowing complexion. This rose quartz roller will encourage lymphatic drainage, eliminate toxins, and reduce puffiness and wrinkles. Keep it in the fridge for a cool and soothing morning facial.
How about a cupful of inspiration every morning? This mug will put any mom on the right path for the day (until her kids drag her off it). P.S. it's good for any beverage — coffee, tea, wine, vodka or you know, whatever inspires her best.
Remind her who kicks ass with this pretty (and strong) brass, hand-stamped bracelet. High-fives and fist-bumps included with purchase.
What does being the queen of the kingdom smell like? We think it's a delicious blend of orange + pineapple, tonka bean, and rum. This candle tells it like it is, making it the perfect gift for moms who like to be Zen, but not like, TOO Zen.
Who holds the key to her heart? You will if you gift her this customizable key necklace stamped with words of inspiration. Available in gold, silver, or brass, it can be customized with powerful phrases: "MOM AF," "FEARLESS," "STRENGTH," "LOVE," or "INSPIRE."
Some moms just take it one day at a time. The perfect add-on gift for the mom who keeps it real, this keychain reminds her to hang in there because she's really doing….okay.
How about a Mother's Day jewelry gift that smells as delicious as it looks? This super-adorable cupcake necklace looks good enough to eat, and is available in strawberry scented. Did we mention it's super adorable? We might have to mention it a third time: Super. Adorable. Okay, we're done.
Is it really a cliche´ if it's true? This gold foil stemless wine glass is a classy upgrade for mommy happy hour(s). Let her wine all she wants while they whine all they want.
Powerful. Independent. Badass. Whatever words you use to describe her, she's a force to be reckoned with. Get this t-shirt for your favorite strong mother and let her tell 'em who's boss without saying a word.