110+ Of The Best Sex Songs To Add To Your Erotic Playlist
by Team Scary Mommy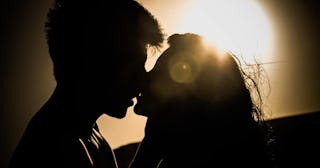 Alejandra Quiroz/Unsplash
When it comes to sex, everyone has their preferences. Some people like it to be quiet so you can hear every moan and sigh. Others prefer having a soundtrack for gettin' busy to both help set the mood, and also cover up any unfortunate sex byproduct sounds (though, while we're on the subject, a little queef is nothing to be embarrassed about). Whatever your M.O., our list will set your quarantine on fire and bring a little steam into your life. For full effect, we recommend enjoying some erotic poems or maybe a little porn to get in touch with your desires. Whatever way you like your foreplay, consider playing these sexy songs in the background to set the mood.
RELATED: The Steamiest Free Literotica-Style Online Erotica We Can Find
If you think you're the only one looking up songs to get down to, you're certainly not. In fact, according to the latest search data available, sex songs are searched for nearly 10,000 per month. That's because people love getting down to the sounds and rhythms of music, whatever the genre may be. Relationship expert Tracey Cox explained why in an interview with Salon, saying music has an effect on sex in myriad ways. "Our brains flood with dopamine, the pleasure hormone, when we listen to music," she explained, adding, "Almost half of the people surveyed said rhythm was the key reason why music made sex better."
Whether you're just listening to get in the mood or doing the deed to the rhythm, here are the best sex songs you'll want to download, stat.
"Wicked Game" by Chris Isaak
"Untitled (How Does It Feel?)" by D'Angelo
"Lovers" – Anna of the North
"No Diggity" by Blackstreet featuring Dr. Dre
"Need You Tonight" by INXS
"Atmosphere" – Joy Division
"I'm on Fire" by Bruce Springsteen
"Lay Lady Lay" by Bob Dylan
"Feelin' Myself" – Beyoncé and Nicki Minaj
"Fade Into You" by Mazzy Star
"Do You Mind" by the xx
"French Kiss" by Lil Louis
"Closer" by Nine Inch Nails
"Do Right Woman, Do Right Man" by Aretha Franklin
"Love to Love You Baby" by Donna Summer
"The Sweetest Taboo" by Sade
"I'm a Slave 4 U" – Britney Spears
"Climax" by Usher
"212" by Azealia Banks
"I Just Wanna Make Love to You" by Etta James
"Ball and Biscuit" by the White Stripes
"Lollipop" by Lil Wayne
"You Really Got Me" by the Kinks
"Lay Me Down" by Sam Smith
"Milkshake" – Kelis
"Rocks Off" by the Rolling Stones
"I Feel You" by Depeche Mode
"Can I get a…" by Jay-Z
"Devil in a New Dress" by Kanye West
"I Can Tell" by 504 Boyz
"Cola" – Lana Del Rey
"Friendly Skies" by Missy Elliott featuring Ginuwine
"Show You the Way" by Thundercat
"Pony" by Ginuwine
"Lay It Down" by Al Green
"When You're Smiling and Astride Me" by Father John Misty
"Feel Like Makin' Love" by Roberta Flack
"Child's Play" by SZA ft. Chance the Rapper
"Je t'Aime…Moi Non Plus" by Serge Gainsbourg
"Fruition" by The-Dream
"Moonage Daydream" – David Bowie
"Jeepster" by T. Rex
"Tender" by Blur
"Please Me" – Cardi B and Bruno Mars
"Sledgehammer" by Peter Gabriel
"Playground Love" by Air
"Pull Up to the Bumper" by Grace Jones
"Slow Motion" by Juvenile
"Body Party" by Ciara
"Studio" by Schoolboy Q
"Kiss It Better" by Rihanna
"Metamorphosis 1" by Philip Glass
"Open" by Rhye
"Adorn" by Miguel
"Wicked Games" by The Weeknd
"FutureSex/LoveSounds" by Justin Timberlake
"Hello" by Erykah Badu
"Like a Dream" by Francis & the Lights
"La Femme d'Argent" by Air
"Sex Machine" – James Brown
"Pyramids" by Frank Ocean
"Rocket" by Beyoncé
"Worked Up So Sexual" by The Faint
"Sexual Healing" by Marvin Gaye
"Nude" by Radiohead
"I'll Make Love to You" by Boyz II Men
"Fever" – Peggy Lee
"Retrograde" by James Blake
"Dream Baby Dream" by Suicide
"Slow Dancing In The Dark" — Joji
"Hold" — Vera
"Ribs" — Lorde
"Eyes On Fire" — Blue Foundation
"Cherry Wine" — Hozier
"Feelin' Myself" — Beyoncé
"Set It off" — Diplo ft. Lazerdisk Party Sex
"Quickie" — Miguel
"I Want Your Sex" — George Michael
"Partition" — Beyoncé
"Pour It Up" — Rihanna
"Let's Get It On" — Marvin Gaye
"Hot In Herre" — Nelly
"Feeling Good" — Michael Bublé
"Cream" — Prince
"You Can Leave Your Hat On" — Joe Cocker
"Motivation" — Kelly Rowland
"Fire" — Bruce Springsteen
"Red Headed Woman" — Bruce Springsteen
"Earned It" – The Weeknd
"Call Out My Name" — The Weeknd
"Desafinado" — Getz/Gilberto
"Morditita" — Ricky Martin
"Pégate" — Ricky Martin
"Life Goes On" — Leann Rimes
"Birthday Sex" — Jeremih
"Thinking Bout You" — Frank Ocean
"Nice and Slow" — Usher
"Tell Me" — Usher
"Sex And Candy" — Marcy Playground
"Whatever You Like" — T.I.
"Eyes On Fire" — Blue Foundation
"Strange Fruit" — Elijah Blake
"Come Away With Me" — Norah Jones
"Confidently Lost" — Sabrina Claudio
"Love Galore" — SZA featuring Travis Scott
"Adorn" — Miguel
"Mayores" — Becky G. and Bad Bunny
"Make You Feel My Love" — Adele
"Love In The Dark" — Adele
"Like A Virgin" — Madonna
"Body On Me" — Rita Ora featuring Chris Brown
"La mordidita" — Ricky Martin
"Danza Kuduro" — Don Omar featuring Lucenzo
This article was originally published on